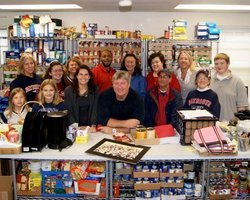 Norwell, MA (PRWEB) November 29, 2010
Coastal Nissan, a Boston area Nissan dealer, announces the success of the 3rd Annual Wellspring Service Special benefiting the Wellspring Food Pantry. Working with Kevin Faulk from the New England Patriots, Coastal Nissan has donated $4,200 over the course of this charity event this year, not including those donations from their service center or food pantry donations from dealership promotions. In the three years Coastal Nissan has partnered with Kevin Faulk for this charity partnership, the auto dealership has donated over $11,000 dollars to Wellspring.
The dealership staff at Coastal Nissan structured this charity effort in three parts designed to maximize the donations they were able to raise. Their auto dealer service department customers at either the Norwell or Cohasset locations were able to bring canned food donations, receiving $1 off of their repair order per donated can.
Dealership visitors were also able to make a donation directly to Wellspring through their secure website while at the Coastal Nissan service department. Customers that chose this second option received a matching amount of "Coastal Cash" to use toward their next service visit.
Coastal Nissan also donated a Thanksgiving dinner for each point the New England Patriots scored in November leading up to the Thanksgiving game against Detroit. Auto dealer customers can still participate in this charity event by donating food or money to Wellspring at either Coastal dealership location and receive discounts on vehicle service through November 30th, 2010.
Wellspring is a multi-service agency dedicated to helping South Shore families in need of financial, mental, and physical assistance. The agency has spent 25 years providing support and skills to help those in need become more independent and productive members of the South Shore community. This is achieved, in part, through their food pantry, crisis counseling program, thrift store, and adult education program. Coastal Nissan, a new and used car dealership located outside of Boston, Massachusetts, is proud to partner with Wellspring year round, helping to support the important work this agency performs.
Those interested in the partnership between Wellspring and Coastal Nissan can find more information at their Boston Nissan website. Coastal Nissan's website was developed by http://www.dealeron.com, the leading car dealer websites company.
###p