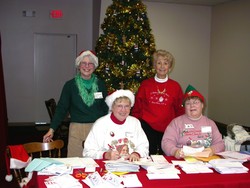 Children have been sending letters to our town for more than a century
Santa Claus, Ind. (Vocus) November 24, 2010
Each year, thousands of letters pour into the town of Santa Claus, Indiana, from children all over the world who hope to receive a response from Santa. On average, 11,000 letters are sent to the Santa Claus Museum each year and are answered by "Santa's Elves."
As a continuing tradition, children wishing to write to Santa should address their letters to: Santa Claus, P.O. Box 1, Santa Claus, IN 47579. Parents should make sure that a legible return address is included. Donations to help pay postage costs may be sent to the same address.
"Children have been sending letters to our town for more than a century," says Patricia Koch, who is on the board of Santa's Elves, Inc. a non-profit organization formed in 1974 to ensure that postage costs are provided each year. "Our records show that the first person to answer the children's letters to Santa was the Santa Claus Postmaster, James Martin, in the year 1914. We've not missed a year since."
The year 2010 marks 80 years since Robert Ripley first declared to the world that he, too, believed in Santa Claus, in his famous "Ripley's Believe It or Not" newspaper series. In one of four sketches featuring the small town, Ripley told readers about the only post office in the country with the Santa Claus name. After these sketches were published, more and more letters were mailed to Santa Claus each year.
America's Christmas Hometown: Santa Claus, Indiana will host a celebration full of family fun on Fridays, Saturdays and Sundays during the first three weekends of December. Among the holiday traditions and events are a traditional Christmas Dinner with Santa; lighting of America's Hometown Christmas Tree; Rudolph's Holiday Hustle, 5K Run/Walk; "Santa Claus Land of Lights," a 1.2-mile driving journey; Chestnuts Roasting on an Open Fire, America's Christmas Hometown Pageant and much more.
Special discount lodging packages are available throughout Spencer County, Indiana. For more information or a full schedule of Christmas events in the area, visit http://www.LegendaryPlaces.org or call the Visitors Bureau at (888) 444-9252.
###