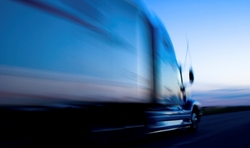 Our practical experience has shown that the composition of truck fleets in many companies is not aligned with their specific requirements
Munich, Germany (PRWeb UK) November 25, 2010
Higher transport efficiency, reduced environmental impact, lower cost – these are the benefits of the new ORion-PI® Fleet Planning solution by Axxom Software AG. Logistics service providers, retail and industrial companies can use the software to individually calculate the optimal composition of their own truck fleet.
ORion-PI® Fleet Planning performs optimization calculations based on the delivery data of a representative period that include information on the order structure, the product range, the geographical distribution of the customer base, delivery frequency and delivery quantities. The software uses the data to develop an optimized strategic routing plan and the optimal composition of the truck fleet to operate these routes. The solution considers all relevant cost factors, like e.g. the truck operation costs, the driver costs and the fixed costs of the trucks in addition to constraints, like storage space or load capacities of the truck types in this context.
The optimization process also considers individual constraints, requirements and particularities, including e.g. the average useful life of the trucks, specific seasonal aspects having an impact on transport volumes, service level requirements as well as loading and unloading times. The use of rental vehicles and third-party service providers can also be integrated in the calculation. In addition, various simulation options enable the user to evaluate the effects of changing external framework conditions: How do transport costs of the existing truck fleet develop if diesel price increases or if new legal requirements are set up? And what would be the optimal truck fleet composition in that case?
"Our practical experience has shown that the composition of truck fleets in many companies is not aligned with their specific requirements", says Dr. Bastian Katz, Consultant Optimization in Logistics & Production, Axxom Software AG. "ORion-PI® Fleet Planning enables to perfectly match the truck fleet to the individual transport volumes and structures, which leads to an improved storage space utilization, reduced CO2 emissions and a reduction of the overall transport costs."
BU: Optimizing the truck fleet structure allows for a significant transport cost reduction. The new ORion-PI® Fleet Planning software helps companies to find the proper composition. (Images: Axxom Software AG)
About Axxom Software AG
Axxom is a leading international provider of software solutions and consulting services for planning, simulating and optimising logistics, supply chain and production processes. The ORion-PI® solution by Axxom features modules for intralogistics and supply chain optimisation, production planning and staff planning and is used by customers in 35 countries in five continents. Axxom successfully completed some 400 projects since its establishment in 2001. Axxom established a subsidiary in Timisoara, Rumania in 2004.
For more press information, please contact:
Axxom Software AG
Jens Verstaen
Marketing & PR
Paul-Gerhardt-Allee 46
81245 München
Phone: +49 (0)89 / 568 23-321
Fax: +49 (0)89 / 568 23-399
Email: jens(dot)verstaen(at)axxom(dot)com
Internet: http://www.axxom.com
###