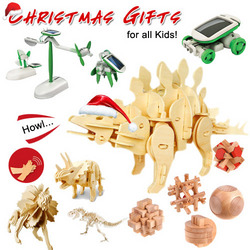 According to the sales data from TOMTOP.com online shop in November, educational toys may lead the mainstream of the Christmas gifts market.
(PRWEB) November 26, 2010
Christmas is coming up soon. Some people have no ideas about Christmas gifts for their kids, some people have already had a plan - plush toys, Barbie dolls for girls, toy gun for boys. These traditional toys are outdated and not surprised for kids. Educational toys, a new trend of Christmas gifts, are more and more popular, such as educational solar kit toys, electric dinosaur toys, robot toy and Chinese Kongming lock etc. According to the sales data from TOMTOP.com online shop in November, educational toys may lead the mainstream of the Christmas gifts market.
Educational toys, also called puzzle toys, are important for kids of all ages and have good facilitation to the improvement of kids intellectual development. According to the study of the British Royal Society, they found that the average IQ of people who always play educational toys are 11 points higher than those who do not play, and they have higher divergent thinking; The American Medical experts also found that the incidence of dementia of people who play puzzle toys is much lower than those who don't. Education toys are also highly recommended by child psychologist.
In addition to intellectual development, the educational toys also have many other features. Puzzle toys are not the most expensive products but they are very effective at developing skills such as creativity, paying attention, problem solving, hand eye-coordination and even essential social skills.
For example, voice-controlled dinosaur toys, the most popular educational toys, are the combination of electric toys and 3D puzzles. After kids finish assembling the wooden dinosaur, they can clap their hands or make sounds, then the dinosaur will walk, turn left/right, howl or bite. It may be hard for your kid to build up the wood dinosaur by himself. Parents should enjoy the fun of assembling with their children. In this process, children will be thinking about how to assemble the dinosaur, building it up by trial and error. It's perfect to cultivate kids' thinking skills, manipulative ability and the spirit of trial and error.
Kongming Lock is an intellectual toy, is given some gaps in the wood, it requires them to put together. This toy has some difficulties to play, because it is some of the geometry of the mosaic. You need to use the space for imagination, which plays such a toy, should be counted as math game. So it perfectly brings you up with some abilities.
Certainly, there are so many other gifts such as assembly Robot, assembly wood puzzle, Solar kits and so on…You can get all of them at TOMTOP.com, a leading China wholesale online shop, which have been providing people with various educational toys & puzzles for Christmas gifts. What's more, you can use coupon code CHRISTMAS2010 to save 8% for any order of $50 or more before 24/12/2010. For more cheap discount, you can find more voucher codes in voucherdigg.
###