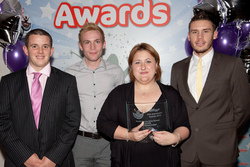 We are a fairly small company which is growing fast but I am determined to not sacrifice quality for growth, which means taking the time to find and employ staff of the highest standard
(PRWeb UK) November 25, 2010
Sandra Turney Swim School, which runs classes across the region, looks to have blown its national peers out of the water by winning Silver in the Top Swim School category at the prestigious Kelloggs ASA Swimtastic Awards 2010.
The school was recognised for the quality of the lessons it provides to people of all ages and abilities every week throughout the North East.
The awards, sponsored by breakfast cereal giant Kellogg's, celebrate the country's most outstanding amateur achievers in the pool with best young swimmer, life saver and community project among several other categories at the event.
Sandra Turney, who launched her own swimming instruction business in 2007 following many years of teaching in the pool, picked up the gong at a ceremony in Stratford-upon-Avon over the weekend after being nominated for the award by her clients.
She said: "I'm delighted with the award as it gives national recognition to the great achievements of our team of instructors and many pupils and affirms that we deliver the best swimming lessons in the North East.
"I am hoping it will bring us to the attention of more hotel chains and gyms who may select us to manage their own in-house swim programmes.
"I also hope the local councils may reconsider their strategy on working with us to manage
their swimming lessons."
Ms Turney was inspired to set up on her own when she was working for a smaller swim school and realised that the huge demand for lessons was a relatively untapped market.
Today it employs seven instructors, two administrators and runs classes in Newcastle, Durham, Darlington, Boldon and West Auckland at schools, hotels and sports centres.
The company is currently undergoing a period of rapid growth, which Ms Turney is carefully managing without compromising the outstanding reputation the school has built up in recent years.
"We are a fairly small company which is growing fast but I am determined to not sacrifice quality for growth, which means taking the time to find and employ staff of the highest standard" she said.
The business is looking to expand its group lesson provision in Durham and South Tyneside and is also extending its SwimaSong programme for parent and babies and the Rookie Lifeguard Life Support Certificate in schools.
It is also planning on branching out into the handling of children's pool birthday parties.
For more information visit: http://www.swimschoolnortheast.com.
Picture Reference: http://www.flickr.com/photos/48205414@N02/5201576428/
Picture Caption: L - R: Sandra Turney, Hannah Phillips, Will Coulson, Andrew Hibbitt and Aileen Mantle celebrate their National win!
Picture Reference: http://www.flickr.com/photos/48205414@N02/5200984573/
Picture Caption: The Sandra Turney Swim School Team
For media enquiries contact Nicol Bradley at Harvey & Hugo on 01325 486666 or Charlotte Nichols on 07813579164 or email nicol(at)harveyandhugo(dot)com.
###