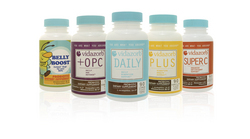 Each child received a month of Nutrifort (fortified peanut butter paste) supplements, helping to increase their weight and strength to a more adequate level
Beltsville, MD (Vocus) November 29, 2010
Sharing with others is good for your health. Scientific studies show that being altruistic can contribute to a healthier state of being by decreasing stress, releasing endorphins, reducing physical pain and possibly even strengthening the immune system. Sharing is good, and it is just one of the reasons why Little Calumet Holdings, LLC, manufacturers of Vidazorb® chewable probiotic supplements, has adopted the corporate philosophy of Share the Health™.
Little Calumet Holdings, LLC, has a strong commitment to improving global health. This has led to the formation of the social responsibility arm of the company, Share the Health™. Share the Health™ works with non-profit global health organizations by helping to provide shelf-stable Vidazorb® for use globally, especially in developing countries.
It is through Share the Health™ division that Vidazorb® got involved with Schoolchildren for Children (ScfC)—a non-profit that started in the UK and has recently expanded to the US. One of ScfC's current projects is working with the women's group, Mujeres Unidas en Desarrollo (Women United in Development), in the community of La Guama in the Dominican Republic. Though a donation from Little Calumet Holdings, LLC, the women were able to improve the infrastructure of their business and extend their client base to sustain business in the future as an important source of household income for the community. They purchased a bottle sealer with the funding that allows them to sell a safer food product for years to come. The remainder of the donation helped to fund the nutrition campaign, which aided close to 100 children whom were suffering from malnutrition due to the conditions and aftermaths of the earthquake in Haiti.
"Each child received a month of Nutrifort (fortified peanut butter paste) supplements, helping to increase their weight and strength to a more adequate level," said Jeff Gregg Wahl, Peace Corps Volunteer in the Dominican Republic. "The community and the recipients of the benefits of this project are truly grateful and blessed to have the support of an organization like Schoolchildren for Children."
Schoolchildren for Children was founded by Lestyn Thomas in 2005 in his home country of Wales. An avid and active youth rugby coach, Thomas was disappointed by the lack of fitness he observed amongst students at the local schools. He envisioned a way to motivate children to become more active by way of helping others. ScfC was formed to aid disadvantaged youth living in appalling conditions in the developing world, while simultaneously encouraging UK schoolchildren to lead healthier lives.
Little Calumet Holdings, LLC, is assisting with facilitating the US arm of this charity in order to bring attention to the organization's good works. E. Frank Hodal Jr., founder of Little Calumet Holdings, LLC, was inspired to create his probiotic line, in part, after years of seeing the horrific effects of malnutrition of children living in abject poverty. The company is also looking to partner with other charitable organizations to get beneficial probiotics into the tummies of those who so desperately need them.
To learn more about Schoolchildren for Children and their efforts happening in the US, go to http://www.ScfC-usa.org. Also, to learn more about Vidazorb® chewable probiotics, check out Vidazorb.com.
About Vidazorb®
Vidazorb® represents the development of superior shelf-stable, chewable probiotic formulations to provide safe, effective and essential support for core health needs. Research and development, together with a commitment to quality and efficacy, defines Vidazorb® as a brand of integrity and excellence. For more information, visit http://www.Vidazorb.com. For engaging, kid-friendly probiotic information, visit http://www.Zorbee.com. To learn more about the importance of, and science supporting, probiotics, visit http://www.YouAreWhatYouAbsorb.com.
For more information, or to arrange an interview with a company spokesperson, please contact Leesa Raab at ADinfinitum, 212.693.2150 x314, leesa(at)adinfinitumny(dot)com or Beth Hurtubise, 212.693.2150 x311, beth(at)adinfinitumny(dot)com.
###