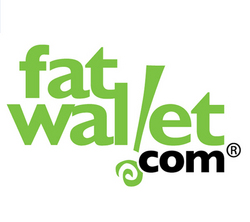 Shoppers can find and compare all the Cyber Monday deals on one helpful web site.
Rockton, IL (PRWEB) November 26, 2010
Deal shopping web site FatWallet presents holiday shoppers with thousands of deals from hundreds of online retailers everyday. Cyber Monday will continue that trend to include retailers' exclusive Cyber Monday offers along with an impressive variety of holiday discounts. The days biggest values will be found in FatWallet's Best Deals and by keeping a watchful eye on the hottest Cyber Monday deals posted by deal-hunting members in the FatWallet forums.
"Shoppers can find and compare all the Cyber Monday deals on one helpful web site," states marketing spokesperson Brent Shelton. "Getting additional Cash Back by simply clicking through FatWallet to make a purchase is icing on the cake." FatWallet receives a commission from retailers for referring them shoppers who make purchases. FatWallet then shares part of that commission back to their members in the form of Cash Back. Membership is free and members must to be signed in before clicking through retail offers to make purchases (in order to receive credit for Cash Back).
FatWallet members looking to find Cyber Monday Deals will be taking advantage of earning additional savings of Cash Back. FatWallet's 2010 Holiday Cash Back Sale features 208 popular stores increasing their cash back offering through the end of the year. For example, a $500 HDTV purchase from Sears will save a member an additional $20 (4%) in Cash Back from FatWallet (originally 2%). "Our members that use FatWallet as their main shopping resource can save hundreds of dollars a year in Cash Back," states Shelton.
As the preferred online shopping resource for millions of savvy consumers, FatWallet.com works closely with hundreds of merchant partners like HP, Dell, Orbitz, and WalMart to publish exclusive offers, money-saving coupons, and cash back rewards. FatWallet's Coupons and Cash Back, Best Deals and Compare Prices offer consumers the most innovative shopping choices. The FatWallet forums represent the pulse of an evolving online marketplace where smart consumers gather to share and learn. http://www.fatwallet.com
Please contact Brent Shelton to schedule a FatWallet Expert interview at 815-980-8478.
###