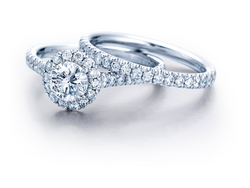 We have taken the guess work out of buying diamond jewelry online and offer you the convenience of selecting diamond jewelry that fits your personal style at a great price."
New York, NY (PRWEB) November 28, 2010
Diamond Classic Jewelry offers a unique on-line shopping experience by presenting only the best selling styles of Diamond Engagement Rings and Diamond Jewelry priced 20-40% less than traditional jewelry stores. The jewelry items on the site are classic styles available in pre-selected diamond total carat weights, prices and metal options.
An extensive selection of Diamond Engagement Rings are offered either as a Diamond Engagement Ring Set with a price that includes the center diamond and matching Diamond Wedding Ring or as a Diamond Engagement Ring with an optional complementary Diamond Wedding Band.
Sam Merksamer, CEO, says "We have taken the guess work out of buying diamond jewelry online and offer you the convenience of selecting diamond jewelry that fits your personal style at a great price."
The guess work involved in constructing your jewelry on-line is eliminated and instead the consumer is offered in-demand styles in different metals, carat weights and prices. The customer easily chooses the one that fits their tastes and budget.
"For too long the online jewelry shopping experience has been stuck within a single online presentation method," Sam Merksamer explains, "With Diamond Classic Jewelry we are offering the consumers beautiful styles in easy to navigate carat total weight choices that fit any budget."
Their designers and manufacturers create classic diamond jewelry styles in perfect balance – size, value and quality. The comprehensive bridal collection includes Diamond Engagement Ring Sets, Certified Solitaire Engagement Rings, and a very special collection of Micro-pave Diamond Engagement Rings. The prices on all Diamond Engagement Rings include the center diamond. The price of Diamond Engagement Ring Sets also includes the matching Diamond Wedding Ring.
Beautiful photography and consumer friendly layouts and navigation simplify the on-line shopping experience. Product categories are uniquely designed so that the consumer is able to view all the variations and prices of these popular styles at one time.
Diamond Classic Jewelry also has an extensive collection of valued-priced Certified Diamond Stud Earrings, Certified Diamond Solitaire Pendants and Certified Diamond Solitaire Engagement Rings, in 14KT, 18KT and Platinum in a choice of 3 diamond qualities. All are delivered with a Diamond Grading Report from International Gemological Institute (IGI).
There is also a great selection of Diamond Anniversary and Eternity Rings, Diamond Bracelets, Diamond Pendants and Necklace including popular styles of hearts, crosses and keys.
Diamond Classic Jewelry ships FedEx, free of charge and has a 30-day Return Policy with extended Return for the Holiday season. There is no charge for ring sizing. Diamond jewelry arrives in a beautiful wood presentation box.
Diamond Classic Jewelry is celebrating their Grand Opening with a Sweepstakes give-away of a pair of 1-CTW Diamond Stud Earrings, certified by IGI, with a value of $1,245. Entry forms can be found on the website.
Contact us at Info(at)DiamondClassicJewelry(dot)com or call at 1-877-661-7418
###