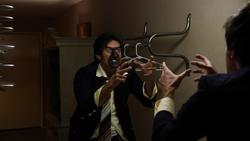 Los Angeles, CA (PRWEB) November 29, 2010
A Green Pearl Extravaganza is announcing the premiere of the Travis Greene film 'Guillermo' on Saturday, December 18th at the Barnsdall Gallery Theater in Hollywood, California.
Where: Barnsdall Gallery Theater at Barnsdall Art Park
4800 Hollywood Blvd, Los Angeles CA
When: Saturday, December 18, 2010
7:30 PM - Live music, wine, and food
9:00 PM - Film Premiere
Who: Travis Greene, Ronnie Prouty, John Kirk, Ellana Barksdale Tod Purvis,
Alonzo "Chico" Medina, among others, will be in attendance
'Guillermo,' written and produced by Travis Greene and Ronnie Prouty, features a lovable, misunderstood sociopath named Billy Gale, Sr. (Ronnie Prouty), who is brought to bouts of destruction and desperation, humiliation and isolation, and ultimately a state of perpetual unconsciousness.
"'Guillermo' is a film that strives to remind the viewer that there is a better world out there... maybe not as 'far away' as one might think," says director Travis Greene.
The film takes the viewer in to a day in the life of Billy off his medication and past his breaking point. Billy meets an enigmatic stranger from another world and gets a taste of the life for which he was meant. The stage is set for Billy to decide whether he will emerge from the rubble to rebuild his seemingly insignificant life or fade gently back into oblivion.
'Guillermo' stars Ronnie Prouty, John Kirk, Ellana Barksdale Tod Purvis and Alonzo "Chico" Medina. It features music by Mariachi El Bronx, Sean Wheeler and Zander Schloss, Philip Glass, Alan Robert and Sigur Ros.
This film has not been rated.
'Guillermo" has a run time of 31 min.
http://www.GuillermoTheMovie.com
Contact: Mary Beth Sales / Christina Lupacchini marybeth(at)marmarpr(dot)com / christina(at)marmarpr(dot)com
# # #