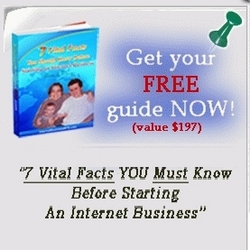 Statistics show that 9 out of 10 businesses fail in their 1st year if they receive no professional guidance. With persistence and professional guidance, most businesses survive the 1st year and prosper for many years to come.
Mansfield Center, CT (PRWEB) November 30, 2010
Bridge To Success has launched a new downloadable guide for people who are looking today for passive income opportunities online.
Many people nowadays are wondering how to start a home internet business with less stress, more confidence, limited cash, success guarantees, no risk and experts' support. It can be daunting to consider leaving the corporate grind and branching on one own, and one needs the support of people who have been there before, making their own mistakes and learning from them, in order to map out a smooth strategy.
Just only a few questions may be standing between someone looking to earn from home and becoming a successful online entrepreneur. The most common questions are:

Where can one learn the skills on how to build a good website?
How can one make sure people want or need what's being offered?
What is web hosting and what does it do?
How can one choose a most suitable web hosting company?
How does one choose a domain name?
Why such tools as autoresponder software and keywords optimisers are needed and how to use them?
How does one market a website?
Where does money come from to pay online entrepreneurs?
Does one need to learn the AdWords tricks to promote an online business?
And if one is not too keen on computing, is it still possible to have a successful Internet business?
It's difficult to know where to turn or who to trust when it comes to finding honest, great-value support for one's venture. Where can help be found? What resources will one need to get started?
It takes time, patience and perseverance to succeed with an online business venture, and Bridge to Success have covered everything which the budding entrepreneur needs to know about getting started, at InternetBusinessBTS.com. The website has been developed specifically to support people from all walks of life to develop their online strategy, creating an ongoing, lucrative passive income opportunity to map out the path to success, one simple step at a time.
And a new guide in a form of an easy to read e-book is now available for free as a download which would normally retail for $197. It outlines the seven key things that anyone setting up as a small business owner needs to know, covering all elements of the business mix to provide an entrepreneur with an accessible, comprehensive guide to online success.
Unlike many tools and support documents online, Bridge to Success have developed a package which is easy to understand and follow. The guys at Bridge To Success know that each person has a different level of technical expertise and business knowledge, and it can be off-putting when one tries and wades through reams of technical jargon. With this in mind, the guide explains things in simple language, making it practical, accessible and ultimately useable. It is developed to get a new business owner up to speed with everything he or she needs to know quickly, guiding through practical steps to achieve online success.
The best news about the guide is that there is no risk at all in downloading it. One won't be asked to pay anything for using it, and when starting a business money is always tight. The guide lets one sample the world of small business ownership without any initial expenditure, letting a potential business owner establish whether this is the career path for him or her.
Once the new business is up and running, there is a lot of support available as well. Bridge To Success staff are always there to help you make it in to a huge success, building on the progress one has already made with the free guide from Bridge to Success.
What more could one ask for?
Pop along to InternetBusinessBTS.com to find out more, or contact Bridge To Success directly.
# # #