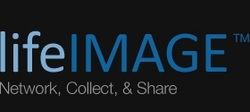 "lifeIMAGE is providing Fujifilm PACS users with a workflow-natural way to access and reference outside data, as well as a fast track for importing data to PACS," said lifeIMAGE president and CEO Hamid Tabatabaie.
Newton, MA (PRWEB) November 28, 2010
Today, lifeIMAGE (http://www.lifeimage.com) announced an innovative technology integration that provides U.S. radiology departments with a more efficient method to manage and reference patients' outside image data, with upfront data reconciliation and enterprise sharing capabilities. lifeIMAGE technology has been integrated with Synapse® PACS from FUJIFILM Medical Systems U.S.A., Inc. (Fujifilm) – embedded into the Synapse user interface – enabling users to collect and share exams presented on CD, and radiologists to view outside exams, without having to import data to the local picture archiving and communication system (PACS).
Currently, the only option for sharing outside image data across a healthcare enterprise is to import it to the local PACS. The process and policy for importation varies significantly across healthcare enterprises, with considerations for data quality, storage costs and medical legal issues. This integration gives Fujifilm customers optional PACS importation workflow, which radiology departments can use to support the policy of their site.
"Outside image data should be accessible throughout an institution because it is relevant to local care planning, and can help avoid redundant imaging exams," said lifeIMAGE president and CEO Hamid Tabatabaie. "By making lifeIMAGE technology available through the Synapse user interface, we are providing Fujifilm PACS users with a workflow-natural way to access and reference outside data, as well as a fast track for importing data to PACS, if and when that makes sense."
Clinical and administrative staff who receive patient CDs can use their facility's existing PACS user interface to simultaneously access outside exam data, instantly normalize its patient demographic and medical record numbers to that in the local systems, and upload it to LILA™ (lifeIMAGE Local Appliance), a secure outside image repository. From there, the outside image data can be shared with anyone within the enterprise, without having to be imported to PACS. This is especially relevant in ED and urgent care scenarios, as well as image-intensive specialty practices, where outside exam data entering the enterprise needs to be highly accessible.
This integration also gives radiologists using the Synapse PACS workstation a way to check for relevant, outside prior exams without leaving the Synapse interface. When outside exams are available on LILA, they can be accessed, reviewed and, if needed, pushed to the PACS.
lifeIMAGE allows patients, physicians and hospitals to electronically network, collect and share diagnostic imaging records from any facility, reducing time and cost associated with redundant exams, avoiding excessive radiation exposure for patients, and providing an image transport method with optimal security that is faster and more reliable than CD media.
About lifeIMAGE
lifeIMAGE provides an Internet service for universal e-sharing of diagnostic imaging information. The service is designed to connect hospitals, radiology groups, and physicians, to their patients everywhere. lifeIMAGE makes it possible to securely deliver or receive patient imaging information wherever needed from wherever the information originates. The goal of the lifeIMAGE platform is to help avoid duplicate exams and eliminate unnecessary patient exposure to excessive radiation. In an era of concerns about rising healthcare costs, lifeIMAGE is investing in a platform that helps advance patient care, while reducing $10-to-$15 billion of unnecessary costs. lifeIMAGE was named one of the most innovative technologies by The Wall Street Journal as part of its international 2010 Technology Innovation Awards. For more information, visit http://www.lifeimage.com.
# # #