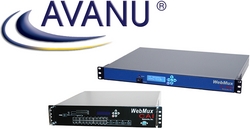 "The total cost of ownership (TCO) of the WebMux load balancer, when you compare the performance, feature set, stability, and focus on value is unbeatable", says Fritz Ames, Senior Vice-President of AVANU®.
San Jose, CA (PRWEB) November 29, 2010
AVANU® today announces the availability of the latest load balancer model, the WebMux 592SGQ from CAI Networks. WebMux 592SGQ replaces the mid-range 591SGQ model with up to 2.7 Gigabits per second traffic bandwidth performance and up to 2,600 SSL terminations per second (1024 bit RSA Terminations/Round Trip)--with the optional SSL accelerator module. At the same time, WebMux 481SD, the lower end model now sustains up to 1.7 Gigabits per second throughput with built-in SSL termination. The recent announcement of the 690PG model, handling up to 4 Gigabits per second throughput, fills out the full range of high-performing load balancers, all supporting extensive options in Layers 2 -7 load-balancing, enhanced HA for office servers, support for PCI industry standards, IPv6, a variety of VLAN, link aggregation, and spanning tree options, IGMP and MLD support, as well as multi-language support for global customers.
"The total cost of ownership (TCO) of the WebMux load balancer, when you compare the performance, feature set, stability, and focus on value is unbeatable. CAI Networks continues to enhance their WebMux Load Balancer family to meet the ever-changing demands of today's traffic management environment. We could not be happier with a manufacturer such as CAI Networks which can respond quickly to our customers evolving requirements", says Fritz Ames, Senior Vice-President of AVANU®.
WebMux Load Balancers are designed to be highly reliable, both in hardware and firmware, as well as high-performance to meet the needs of a wide-range of customer applications. Simply managing HTTP web site traffic or performing sophisticated balancing of multiple tiers of unified communication applications--such as Microsoft® Office Communications Server 2007 R2 or Lync™ Server—WebMux provides for smart solutions. WebMux provides the network optimization options that you need--at the price-points that match your bandwidth-- to support your office servers, your Oracle® Application Servers and other Apache™ web servers, your IIS Web servers, your Exchange servers, all at prices that are easy on your budget.
WebMux Load Balancers Availability
CAI Networks' WebMux Load Balancers Manufacturer's Suggested Retail Price starts at US$3,999.00 and comes with a one (1) year product warranty, firmware updates, and technical support. For additional information on WebMux Load Balancers or becoming a reseller, contact sales(at)avanu(dot)com or call 1.888.248.4900 (US & Canada Toll Free); 1.408.248.8960 International.
About AVANU, LLC
Established in 1997, AVANU® based in the Silicon Valley of California is a worldwide value-added supplier with a focus on IT network infrastructure computer equipment, software, design and implementation services. AVANU's customers are system integrators, value-added resellers, web-hosting companies, ISPs, co-location entities, Fortune 500 companies, educational institutions, and local and federal government agencies. AVANU's long-term customers appreciate our honesty, responsiveness, high integrity, and customer-centric focus. AVANU® is a certified participant in the U.S SBA's 8(a)/SDB development program, DoD CCR, and IAE's ORCA certified. http://www.avanu.com/about.htm
About CAI Networks, Inc.
Founded in 1987, CAI Networks (http://www.cainetworks.com) specializes in Internet/Intranet appliances and server reliability solutions and is a leading provider of load balancers. CAI has its engineering and sales offices in Southern California. WebMuxes are installed worldwide by businesses, government agencies, and ISPs to maintain the reliability and availability of websites, portals, and web-based applications. CAI Networks is a member of the Microsoft and Oracle partner networks.
Copyright © 2010 AVANU, LLC. San Jose CA USA. All rights reserved.
AVANU is a Registered Trademark of AVANU, LLC
All other trademarks and registered trademarks are the property of their respective owner(s)
# # #