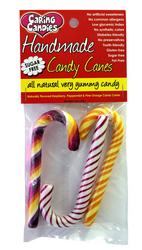 "Until we started distributing Caring Candies here in the U.S., desperate parents were forced to go through the ordeal of having to place orders for this high quality product directly with the candy maker in South Africa" Bianca Riethmueller, CEO
Amesbury, MA (PRWEB) November 29, 2010
The Really Healthy Stuff Company is putting the 'happy' into the 2010 holiday season for kids and adults with dietary restrictions. REHEST is the exclusive North American distributor of Caring Candies from South Africa, a line of all-natural, sugar-free candy canes, bonbons, and lollipops that are perfect for people who love treats, but whose dietary restrictions prevent them from enjoying traditional holiday sweets.
"Most parents, particularly those whose children have dietary restrictions, are more than willing to 'go the extra mile' to put a smile on their kids' faces . . . even if it means they have to shop as a far away as Cape Town in South Africa," explains Bianca Riethmueller, CEO and co-founder of the Really Healthy Stuff Company. "And until we started distributing Caring Candies here in the U.S., desperate parents were forced to go through the ordeal of having to place orders for this high quality product directly with the candy maker in South Africa."
In addition to paying for the candies themselves, parents incurred the added expense of shipping all the way from South Africa, and then worried that the packages might not arrive in time for holidays and birthdays. "But concerned moms and dads felt the extra effort was worth it because Caring Candies are simply unique in that they are delicious and beautiful, but can still be enjoyed by kids with even severe dietary restrictions. Bianca Riethmueller explains. "There simply was no candy like this in the United States."
That situation has now changed . . . for the better. Thanks to the dedicated REHEST team, Caring Candies – including brightly colored holiday candy canes – may now be purchased throughout the United States by online orders from http://www.ReallyHealthyStuff.com. They are also available in U.S. retail stores including select Whole Foods stores on the East Coast, as well as other online retailers.
Easy availability is, in itself, a welcome gift for the holiday-stressed parents of children with food allergies or with diet restrictions due to illnesses like cancer and diabetes, and conditions such as autism, ADHD/ADD, and childhood obesity, not to mention cavity-prone teeth. "And Caring Candies are a perfect choice for parents who simply want their children to lead a healthy lifestyle," says Riethmueller.
Caring Candies are also the only confectionary certified Kosher Parve by Union of Orthodox Synagogues of South Africa.
Inspired by Real Life Parents on Two Continents
REHEST was inspired by the experiences of Heather Flaherty, the mother of a child with severe food allergies "It took years of research and effort, but Heather was ultimately able to move her son off the autism spectrum," reports Riethmueller, "in particular through dietary intervention." It was this challenging, but ultimately successful journey that led Riethmueller, an entrepreneur and mother herself, to found the Really Healthy Stuff Company with Flaherty.
The origin of the Caring Candies company was similarly inspired.
Caring Candies were developed in South Africa in 2003 by Denise and Neil Glezer-Jones. Frustrated by the lack of healthy treats available for their own family, the father and mother team set out to develop a line of sweets specifically for diabetics, hyperactive children, dieters and other health-conscious individuals everywhere who, "wanted to say 'yes' to candy, but 'no' to sugar or other 'nasties' in any form, whether artificial colors/dyes, preservatives, artificial flavors, artificial sweeteners or other artificial ingredients," reports Riethmueller.
The Isomalt Difference
Flavored only with herbs or fruits, Caring Candies are like no other product available in the U.S. They can truly be considered sugar-free and are among only a few candies in the world that children with dietary restrictions can enjoy. Candies labeled as 'all natural' or 'organic' are typically made with evaporated cane juice. "While evaporated cane juice is different from processed sugar, it is still sugar – even if it is not listed as 'sugar' on an ingredient label. So products made with evaporated cane juice cannot be tolerated by people with diabetes and other dietary restrictions," Riethmueller explains. Caring Candies, on the other hand, are made with a sugar substitute called Isomalt which is made from beets. This is important because Isomalt is low on the glycemic index (GI), a comparative measurement of the amount of glucose released by a particular food over a two to three-hour period and a key measurement used by people with diabetes in the regulation of blood sugar. Caring Candies' index at 9 (out of 100) on the GI compares highly favorably to evaporated cane juice (55 out of 100) and refined table sugar (80 out of 100). Caring Candies are also fat-free and low in carbohydrates.
But it's the delicious taste of Caring Candies that truly sets them apart.
Award-Winning Flavor
In 2004, Caring Candies received the Palatinit Award for Best Sugar Free Product at an international competition beating entries from all over the world. In 2010, Caring Candies lollipops were recognized as best lollipops and as an Editor's Pick by the Progressive Grocer, a US trade magazine covering the grocery trade.
Every piece of Caring Candies is expertly handcrafted and consists of only natural ingredients, with kid-friendly flavors that are derived from healthy herbs and fruit essences instead of synthetic sugar. "The amazing eye-popping coloration is all-natural and comes from veggies, plants, and herbs, too," reports Riethmueller.
Caring Candies handmade, all-natural sugar-free candy canes are available in sampler packages that contain three flavors per gift packet, including 'traditional' Pure Mint, Raspberry, and Pineapple-Orange. For more information about The Really Healthy Stuff Company and Caring Candies and to place a holiday order, please visit http://www.reallyhealthystuff.com.
About The Really Healthy Stuff Company and Caring Candies
The Really Healthy Stuff Company (REHEST), headquartered in Amesbury, Massachusetts, is the exclusive North American distributor of Caring Candies, a line of all-natural sweets and treats from South Africa. Caring Candies are perfect for health-conscious candy lovers and those with special dietary needs, including diabetics, hyperactive children, and waist-watchers. Caring Candies sugar-free lollipops, bonbons, drops, hard candy and candy canes are healthy, all-natural and tooth-friendly, as well as kosher and vegan. For more information about REHEST and Caring Candies and to place an order, please visit http://www.reallyhealthystuff.com. A Media Kit is available at http://caringcandiesusa.com/.
Contact:
Bianca Riethmueller, President & CEO
The Really Healthy Stuff Company
110 Haverhill Road, Suite 299
Amesbury, MA 01913
http://www.reallyhealthystuff.com
Media Information: http://caringcandiesusa.com/
978-225-8826
info(at)rehest(dot)com
# # #