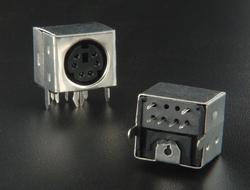 Sunnyvale, CA (PRWEB) November 29, 2010
Regal Electronics, Inc. has added a filtering option to its line of mini-din connectors. The ferrite filter is for common mode (conducted) noise rejection. The addition of common mode noise reduction provides design engineers a broad range of performance options available with Regal's mini-din connectors, such as shielding and gaskets for tough EMI environments, and now filtering to reduce common mode noise.
The new Regal mini-din connector reduces common mode noise by integrating an optional ferrite filter right into the connector base. In addition to reducing common mode noise before it enters the connector assembly, there are the added benefits of controlled insertion loss and higher reliability since there are no solder joints to fail.
The new Regal filtered mini-din connectors are available for prototype applications through Regal's "Quick Ship" program: Orders in by 4:00PM are shipped out the same day, as are the majority of Regal's connector, speaker and related components.
About Regal Electronics, Inc.
Since 1976, Regal has manufactured quality electronic components, speakers, connectors, and a wide variety of related products and services from its operations in the United States, China and Taiwan. Engineering testing and support for Regal Electronics, Inc. line of products is located at its Sunnyvale, California, headquarters. Low to mid-range quantity orders are welcome.
# # #