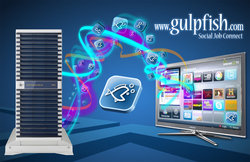 "Words cannot express how excited we are to participate in the 2011 International CES." "This year's show will offer unparalleled networking, exposure, and business development opportunities for our products," said Ilya.
Warwick, RI (PRWEB) November 29, 2010
Gulpfish.com has entered the Social Media market in a new BIG way! "We have created the first job search television application that allows companies and their potential job search candidates to connect and interact in a social environment on their Samsung application enabled internet televisions. We are re-defining what TV apps can do, as our application links user's on-line job search account with their TV's," said Gulpfish, Inc. CEO and founder Ilya Reikhrud.
The majority of applications that are available for the Samsung TV are strongly focused on entertainment. Due to the development of the Gulpfish Social Job Connect Application users are now able to use their TV sets for purposeful, productive and engaging activities that ultimately will allow the user to find and to be found by employers. This new concept of bringing your job search to your television allows not only yourself, but your entire family to be part of your job search.
Employers will also benefit from this application. One great benefit is to use this application in a board room setting where the entire HR department can collectively view their candidate's resume, profile, portfolio, and video bio directly from their Samsung Flat Panel TVs. This application, however, is not only limited to the board room setting. "All employers watch television at their homes and now they can enable a widget that will launch the application when a job search candidate sends a resume, sends a message, or replies to an on-line interview request," stated Reikhrud. "The user will be notified by a small icon that will appear in the corner of their television set when an internal contact or message request is made."
At the 2011 International CES, Gulpfish, Inc. will be announcing a Entertainment job search Partnership with legendary recording artists, producers and entertainers, Full Force. Full Force is responsible for writing music for performers as Lisa Lisa & Cult Jam, Britney Spears, Backstreet Boys, Black Eyed Peas, James Brown and so many more. They are also stars of the hit movies House Party 1, and it's follow up, House party 2. Full Force's Bowlegged Lou, Paul Anthony, and B-Fine will be engaging audiences throughout the entire CES as well as scheduled engagements at their Gulpfish booth # 26420 at 2PM Thu, Fri, Sat, and Sunday (January 6-9, 2011 Las Vegas CES).
A demonstration of this technology will be available at the 2011 International CES Gulpfish Booth #26420.
Gulpfish, Inc. is designed to allow the job seeker and the employer to easily navigate the complex world of on-line job search. http://www.gulpfish.com functions as a private non-shared database of job search candidates and employers. The site is dedicated to delivering an organized, accurate and personal experience between employers and job seekers. All job search candidates and employers are registered users of gulpfish.com. We do not post job search candidate's resumes on other web sites nor do we link external jobs from other career search web sites.
Gulpfish owns the internet's only Intuitively Dynamic Search Platform. The Patent Pending Dynamic Search Platform enables users to perform all search and communication functions from one web page eliminating both frustration and countless clicks to achieve a desired result.
# # #