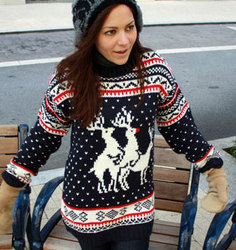 Watching the reactions is half the fun of wearing the new designs
Longmont, CO (PRWEB) November 30, 2010
Skedouche, the leader in festive and tacky Christmas sweaters, is offering two new varieties this season guaranteed to make you stand out at your Tacky Christmas Sweater Party: "naughty" sweaters and eye-catching lighted sweaters.
The "naughty" line takes an irreverent look at the holidays with three designs that are definitely risqué – "Reindeer Threesome" (no wonder Rudolph's nose is red!), "Reindeer Games" (pairs of reindeer doing you-know-what), and "Excited Snowman" (hint: look for the extra carrot).
"We received a huge number of requests last year for adult-oriented sweaters," said Skedouche founder John Kaplar. "We're proud to offer three unique designs that fit the bill," he said.
The "naughty" sweaters might appear merely festive at first glance – but anyone who takes a closer look is bound to be shocked! Watching the reactions is half the fun of wearing the new designs, Kaplar said.
If you want to turn heads another way, try the new Skedouche lighted sweater. This bright green sweater features a light-up Santa and four high-kicking reindeer loaded with LED lights.
With the flick of a switch, the design comes alive with tiny blue, white, red, and gold lights that flash continuously. The remote conveniently fits in a pouch inside the sweater and the wires are hidden in the lining. Batteries are included. This sweater is sure to draw attention when you light it up!
The naughty sweaters and the lighted sweater are available at skedouche.com.
Skedouche.com also offers an extensive line of other festive (or tacky) holiday sweaters in sizes for men and women, plus those "must have" accessories like long striped scarves and walking canes painted with candy-cane stripes.
Kaplar started the company last year because he couldn't find festive Christmas sweaters designed for men – but his sweaters have been a hit with both men and women, and there are sizes to fit nearly everyone. All Skedouche sweaters are brand new – not the used thrift-store sweaters offered on some websites.
Skedouche sweaters are known for their big and bold original designs and bright colors. Are they festive or tacky? "It's all in the eye of the beholder," Kaplar says.
Help a Good Cause: This season, Skedouche will donate one dollar to charity for every sweater sold. The customer can designate one of four charitable organizations:

St. Jude Children's Research Hospital
Parkinson's Disease Foundation
Breast Cancer Research Foundation
Alzheimer's Association
Be sure to select the charity of your choice on the skedouche.com checkout page.
Expedited Shipping: If you want your festive sweater super fast, Skedouche now offers expedited shipping via FedEx. Standard shipping is USPS. Look for the FedEx expedited shipping option at skedouche.com.
Naughty or nice, this season's well-dressed revelers will don high-quality Skedouche sweaters, scarves, and accessories – whether they want to look supremely festive, garishly tacky, or just want to shock their friends! And they'll be doing a good deed to help fight disease. It's a winning combination, and it all starts at skedouche.com.
[NOTE TO EDITORS: Skedouche founder John Kaplar is available for interviews by phone, and for studio appearances and product demonstrations. See contact information at top.
# # #