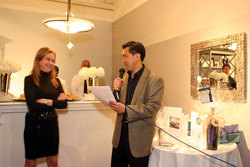 "We are honored to be collaborating with Sophie Azouaou, a leader in the industry and a key influence person in the San Francisco Bay Area community. She will be an amazing ambassador for our company", says Ochi Tirta owner of Ochi & Company
(PRWEB) November 29, 2010
Sophie Azouaou founder of SophiSticate Interiors, the San Francisco Bay Area premier residential and commercial design company announces its partnership with high end Ochi & Company Showroom.
Sophie Azouaou, owner of SophiSticate Interiors is now officially the ambassador for High End Ochi & Company Showroom.
Showroom is owned by Ochi Tirta.
Ochi Tirta: " Ochi and Company has been a proud part of the design community in northern California for 12 years. Our aim has always been to provide a Mecca of resources which aids designers in their vision and objectives. We are not settling for lower quality imports. All the furniture and accessories are proudly made in the USA, Canada, Italy and Belgium.
We are thrilled and honored to be collaborating with Sophie Azouaou, a leader in the industry and a key influence person in the San Francsico Bay Area community. As the ambassador for our company, Sophie knows exactly what our needs and demands are. She knows how to promote and educate people about our brands in the most effective way. Having Sophie on board is an asset to our company!
The Ochi & Company showroom in San Francisco, carries fine iron beds, dining sets, French settees, sofas, ottomans, elegant French Country upholstery, exquisite home accessories and unique gift items.
"We are all busy people and on a time crunch most of the time. The beauty of the showroom not only resides in the selected wonderful companies with proven reliability, who carry top quality products including eco friendly ones," but the beauty of the showroom is also in its functionality. A "one stop does it all", from beds, dining rooms sets, sofas, to unique gifts". An entire house or condo can be furnished in one very single place", states Sophie Azouaou
"The wide array of styles makes it a unique destination for designers and clients alike.
Ochi & Company will cater to the needs of High Rise living, residential transitional and more traditional living as well", adds Ochi Tirta.
It will represent exclusively the following lines Redford House, Hallman Furniture, Wesley Allen, Attila,
Artisan House, Dragonfly, Stylus.
A private cocktail party will be held on December 1st, 2010.
Cocktail party will be sponsored by Earth Friendly Products, Landrin Chocolates, Living Tree Community Foods, Mac Gary & Company, SophiSticate Interiors, Shear Miracles Organic Salon Products By Robyn, suki proven clinical solutions, Vaska, Vital Choice Seafood.
Media: Change Starts At Home, SF Luxury Living & Reside SF
Photos: Jay Cellini Photography
Event is by invitation only.
For more info see related press:
Reside SF
###