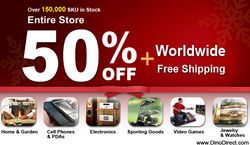 DinoDirect's Crazy Week Holiday Sale, Enire Store 50% Off, Help You to Save More.
West Hollywood, CA (PRWEB) November 30, 2010
Dinodirect released an activity named "crazy week", which offers 50% off in entire store and will last from 00:00 am Nov. 25th, 2 2010 to 23:59 pm Dec. 1st .The holiday season is prevailing, which means crazy shopping is exactly what you should do right now. The door buster sales of Black Friday ended already. You might not get all your needed products yet and still be planning for the awesome Cyber Monday deals. Then schedule your shopping plans properly so that you can be among the early bird shoppers who can grab the best deal ever. One suggestion for you: visit the online store of DinoDirect; enjoy huge discount of 50% off.
Many customers have discarded the traditional idea of rushing to the departmental stores in order not to be stepped by the crowd. Conversely, they have rescheduled their Black Friday plans as I suggested and gave a shot to shop from DinoDirect, grabbing even much better deal at ease. The "Crazy Week" sale of DinoDirect, which has started from November 25, 2010, is offering a wide range of products at a flat discount of 50% off. According to the poll of customer shopping experience, almost 90% of them showed great satisfaction with DinoDirect and their products.
Another DinoDirect Black Friday sales report clearly indicates that their "Crazy Week" is making waves on the web. Holiday shoppers from different places have ordered tremendous Christmas gifts and Christmas trees from DinoDirect. They have opted for the DinoDirect Crazy Week sales as the store is offering a flat discount of 50% off on all the items they sell.
The Crazy Week sale of DinoDirect is still running and it will last till December 1, 2010. Therefore, if you are planning for Cyber Monday shopping, you can check out the catalogue of the store, easily avoiding the huge crowd than before. DinoDirect is offering 50% Off discount on all the electronic items. So, you can easily purchase your favorite cell phones or MP3 players from this store. DinoDirect Crazy week sale will be on for a week. Therefore, do not even hesitate to purchase your favorite electronic gadgets, visit the store now and get your needed products at the cheapest price ever. The offer is only available through the weekend so do not make delay in placing the order. Remember, it is a once in a lifetime chance, an unnecessary delay in placing the order may make you repent later.
Orders are pouring in randomly from different parts of the world. Therefore, place the orders before the stock ran snack. Bulk orders from retailers and single orders from the individual shoppers have overwhelmed the store. Staffs are busy in arranging the shipments and processing the orders on time. So, you can be assured of receiving your shipment in the least time. DinoDirect is providing free shipping for all their products, which means you will not have to pay a penny from your pocket to get your merchandise at your doorstep.
If you have missed the Black Friday deals of this year, come to the online store of DinoDirect and purchase to your heart's content. In spite of the huge traffic at every moment, the site is running smoothly and so you can be assured of a fantastic shopping experience.
###