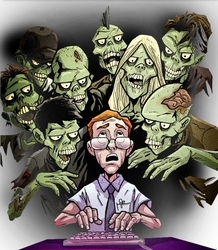 The Food Court Chat is probably my favorite feature on Zombie Dobby. We designed it as a random encounter feature, allowing those with common interests to get together and talk about the things they love.
(PRWEB) November 29, 2010
A new Internet toolbar browser game is taking the planet by brain eating Zombie storm. Mr. Michael Wills, the developer, today announced the first full prize round (Round 4) of the newest in toolbar games, Zombie Dobby. In Round 4, starting December 1 and ending December 31, the winner will take home a brand new Sony PS3 160GB System.
Zombie Dobby is a newly released toolbar game of browser zombie tag, similar to that of the famous playground Zombie tag but truly unique. And like the playground game, it's free to play. The player simply downloads a toolbar to their browser (only operating with Firefox Browsers at this time), beginning the challenge as a "Brain," with the objective to remain a Brain as long as possible.
Players surf the web, collect points and thus increase their Health, Score, and Rank. Eventually, every Brain runs into an active Zombie player on one of the websites they visit. A Zombie is a player who has lost encounters with other Zombies, thereby losing all their Health and their Brain status.
The game is played in Rounds lasting roughly one month. The rules, posted on the website, explain how to increase points and remain a Brain as long as possible, including Upgrades obtained by trading in points. By remaining a Brain and keeping most of their health, a player will be in the running to win the challenge for Round 4 and get their own Sony PlayStation 3.
Popular sites, such as Google, YouTube, etc. could be the downfall of anyone running into a Zombie there, since the player may return to those web pages again and again. However, Zombie Dobby is designed so a player is immune on that domain if re-visited within a set time frame. This allows people to go back and forth to sites like Google without losing all their points.
The toolbar automatically handles Score, Rank, and Zombie encounters, and there are other interactive features which make this an interesting and exciting game, as well as a social media site.
One of the other features included with the toolbar is a toolbar chat function where players can find a table and "sit" with others anonymously, meeting them on various topic pages on the Web. They can then chat it up with other Brains (or Zombies!) from all around the world, right from the Zombie Dobby toolbar.
"The Food Court Chat is probably my favorite feature on Zombie Dobby," says Michael Wills. "We designed it as a random encounter feature, allowing those with common interests to get together and talk about the things they love." So, if you happen upon another Zombie Dobby user at the fan site of your favorite band, you can jump into a chat and talk about the band's latest music.
Other features include the World Map, a dynamic Google map where anyone can check out the Zombie outbreaks across planet Earth, and the custom Zombie Dobby search engine, a very good Meta search engine lovingly called "Brains".
Zombie Dobby is also proud to announce their Facebook Fan Page where both Brains and Zombies can interact with other like-minded zombie fans.
The first Sony PlayStation was won by "DevilCharger" from New York State. The next Round launches on 1 December and runs through 31 December for a grand prize of a Sony Playstation 3 160GB, and anyone could win it with no more effort than surfing the web daily with the Zombie Dobby toolbar downloaded on their Firefox Browser.
It's to be noted that privacy isn't an issue on Zombie Dobby. No personal information is collected, and any voluntarily disclosed (such as prize winners) is not shared with anyone. No money changes hands, and you don't need to provide your name or even an email address to play Zombie Dobby. It's an easy and safe way to play a unique game of internet tag with an awesome prize at the end for the player with the highest score.
Michael Wills is the developer and publisher of the Zombie Dobby toolbar game, established to provide a way for gamers to experience fun while surfing the Internet, as well as to meet up with other like-minded people and discuss their various interests. The most recently released game of Zombie Dobby can be downloaded free at http://www.zombiedobby.com.
###