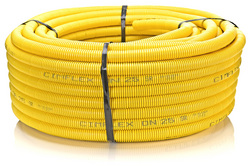 It is a great honor to be recognized not only for the environmental impact of this recycling program, but for the science behind it.
(Vocus) November 29, 2010
Sao Paulo, Brazil, Nov. 29, 2010 – DuPont received the 2010 Premio ECO Award in the Sustainability in Products category for its role in a closed loop recycling process for agrochemical multilayer bottles. DuPont Latin America President Eduardo W.Wanick accepted the award during an international ceremony here last Friday.
"It is a great honor to be recognized not only for the environmental impact of this recycling program, but for the science behind it," said Wanick. "Multilayer containers pose a great recycling challenge due to the variety of plastic materials used in the construction."
The "Virtuous Cycle using Fusabond®" project relies on the unique characteristic of DuPont™ Fusabond® coupling agent to compatibilize and bond dissimilar polymers in the recycling process. Fusabond® also improves impact resistance, surface finish and processability of parts and films so the recycled product can be used to form other articles with little material loss and great added value.
Empty agricultural chemical packaging is collected by the National Institute for the Processing of Empty Packaging (inPEV), launched by government mandate and initially supported by 22 founding companies, including DuPont. Since 2002, more than 150,000 tons of empty packaging has been collected, eliminating the need for 374,000 barrels of crude oil and more than 160,000 tons of CO2 equivalents.
Brazil is a leader in collecting used agricultural chemical packaging with a 95 percent collection rate, compared with Canada (73 percent), Germany (76 percent), France (66 percent) and the United States (30 percent).
"Innovative programs such as these evolve when the entire value chain is engaged," said Wanick. DuPont contributes to global food production by providing products and services that help ensure food safety, higher crop yields, and healthier foods. "DuPont is uniquely focused across the value chain allowing us to introduce customized solutions based on our holistic view of global food production," said Wanick. "Reducing the negative effects on the environment requires collaborative innovation throughout the value chain focused on a common goal of a sustainable future."
The ECO Award, organized by Amcham (American Chamber of Commerce) and newspaper Valor Economico, launched in 1982 and awards socially responsible companies and emerging sustainable practices.
DuPont – one of the first companies to publicly establish environmental goals 20 years ago – has broadened its sustainability commitments beyond internal footprint reduction to include market-driven targets for both revenue and research and development investment. The goals are tied directly to business growth, specifically to the development of safer and environmentally improved new products for key global markets.
DuPont (http://www.dupont.com) is a science-based products and services company. Founded in 1802, DuPont puts science to work by creating sustainable solutions essential to a better, safer, healthier life for people everywhere. Operating in more than 90 countries, DuPont offers a wide range of innovative products and services for markets including agriculture and food; building and construction; communications; and transportation.
The DuPont Oval Logo, DuPont™ and Fusabond® are registered trademarks or trademarks of DuPont or its affiliates.
###