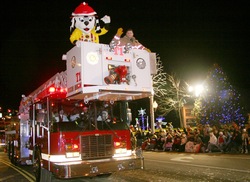 Gatlinburg, TN (Vocus) November 29, 2010
Kris Kringle (aka Santa Claus), the red-haired star of the 1970s children's classic animated holiday TV special, will be coming to Gatlinburg to serve as the Grand Marshal of the 35th Annual Fantasy of Lights Christmas Parade, along with his sidekick Topper the Penguin, on Dec. 3 at 7:30 p.m.
Mr. Kringle comes to Gatlinburg by way of ICE! featuring Santa Claus is Comin' to Town® an ice sculpting event at the newly restored Gaylord Opryland Resort in Nashville. This original Christmas classic will be brought to life in two million pounds of expertly carved ice. The characters' sculptures, slides and scenes are literally constructed out of ice, hand-carved by artisans brought to the resort from Harbin, China, home to the internationally famous Harbin Ice Festival. ICE! featuring Santa Claus is Comin' to Town® runs Nov. 19, 2010 through Jan. 2, 2011.
Other distinguished entries into this year's parade include the world-famous Oscar Mayer Wienermobile. The first Wienermobile was designed by Carl Mayer, nephew of Oscar Mayer, in 1936. Today's Wienermobile travels across America giving away famous Wienerwhistles along the way. The Wienermobile itself is 24 hotdogs high, 60 hot dogs long, 18 hot dogs wide and weighs 140,500 hot dogs.
The parade excitement for young and old also included more than 100 parade entries, marching bands from all over the Southeast, and giant helium balloons taking to the streets. Santa's Autograph Party cranks up at 6 p.m. at Riverbend Mall, in the midst of a main viewing area for the
Parade at Traffic Light #3 in front of the Gatlinburg Welcome Center. The parade begins at Traffic Light #1A on Hwy 321 and ends about an hour-and-a-half later at Traffic Light #10.
Jamming sidewalks and balconies along the parade route, a crowd in excess of 80,000 people is expected to soak up the illuminating festivities for Gatlinburg Winter Magic, the City of Gatlinburg's popular holiday lights program which has received a $1.5 million injection of new displays plus a 100-percent conversion to energy-efficient LED bulbs over the past few years.
To learn more about these and other events in Gatlinburg, call 800-56-VISIT (568-4748) or visit the Gatlinburg website at http://www.gatlinburg.com.
###