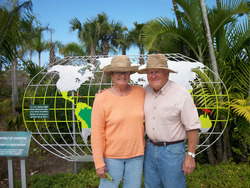 Each visitor has contributed to make the Garden what it is today with their feedback and support
Naples, FL (Vocus) November 29, 2010
Just one year after re-opening its Garden gates to the public as a 170-acre botanical garden, Naples Botanical Garden celebrates the 100,000th visitor, Carol Banaszak. Carol along with her husband Ed Banaszak heard about the Garden through a friend who serves as one of the more than 600 Garden volunteers. As avid plant lovers, especially Ed who has filled their home's lanai with bromeliads and orchids, they embarked on their first visit to the Garden unaware of the landmark they were about to set. To honor the momentous occasion, the couple received a complimentary Family Membership and are already planning their next visit.
"Each visitor has contributed to make the Garden what it is today with their feedback and support," said Brian Holley, executive director. "We hope that as awareness of who we are and what we do spreads, our community will continue to grow."
The Garden recently celebrated another significant occasion with the opening of three new gardens – The Marcia and L. Bates Lea Asian Garden, Karen and Robert Scott Florida Garden (including the Buehler Family Foundation Enabling Garden) and Water Garden – which complete the initial construction of the "gardens with latitude" that represent landscapes and cultures from a specific latitudinal band around the globe (26 degrees North and 26 degrees South). First time visitors such as the Banaszaks and repeat visitors alike still find it difficult to choose a favorite though.
"It's too hard to pick just one," said Carol Banaszak upon returning from her first visit through the Garden. "The Water Garden, the Thai Pavillion in the Lea Asian Garden and the Burle Marx Mosiac Plaza in the Brazilian Garden are all so beautiful!"
As season kicks-off the Garden is offering a robust schedule of events sure to attract even more visitors, both local and vacationing, including some new activities such as yoga, jazz concerts, movie nights and tastings. The signature events like the annual Trunk Show and the Flower Show, which Carol admitted she was especially looking forward to, will continue to expand with some new surprises as well.
About Naples Botanical Garden
Naples Botanical Garden is a 170-acre world-class garden paradise that features the flora and cultures of the tropics and subtropics between the latitudes of 26 degrees North and 26 degrees South including Brazil, the Caribbean, Southeast Asia and Florida. A hands-on interactive Children's Garden along with 90 acres of beautifully restored natural habitats, walking trails and a Butterfly Garden offer educational entertainment and enjoyment for people of all ages. Founded in 1993, the Garden re-opened to the public in November 2009 after an extensive expansion. Regular hours of operation are 9 a.m.-5 p.m. every day.
Visit our website for more information http://www.naplesgarden.org.
###