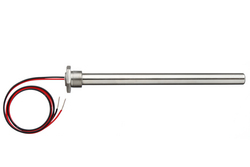 The new Deep Draw cartridge heater is an ideal choice for any cartridge applications where moisture ingress and risk mitigation are a concern.
Pittsburgh, PA (PRWEB) November 30, 2010
Chromalox, a leading manufacturer of electric heat and control products, announces the introduction of the innovative Deep Draw cartridge heater, model C-DD. The sheaths of Deep Draw cartridge heaters are made from a progressive deep draw process that begins with a singular disc of material. The disc is drawn and annealed repeatedly until the tube is finished to specified sheath dimensions. The end product is a contiguous sheath similar to a test tube. Chromalox is the first industrial heater manufacturer to introduce this new deep draw cartridge heater technology.
The conventional cartridge heater manufacturing process requires a heli-arc weld joint to secure the end disc to the sheath's tubing. These weld joints are subject to pin holes and weld imperfections, which can result in moisture ingress and catastrophic failures. Additionally, the heli-arc weld process does alter the chemical composition of the sheath material as carbide precipitates will rise to the surface of the material itself, increasing the probability of accelerated corrosion.
Since the Deep Draw construction features a single disc of parent material that is progressively drawn until reaching final dimension, the entire unit is effectively seamless. The benefit of seamless tubing is that there is no chemical alteration of the alloy properties induced by the welding process, therefore yielding a superior tubing material. The Deep Draw construction offers an element of additional safety to customers with stringent and critical applications. In medical and analytical instrumentation, or products where leakage current is of particular concern, the Deep Draw construction eliminates the concern of potential moisture ingress due to faulty welds.
"The new Deep Draw cartridge heater is an ideal choice for any cartridge applications where moisture ingress and risk mitigation are a concern," said Steve Doyle, Director of Specialty Components at Chromalox.
For more information about the Deep Draw cartridge heater or other Chromalox products, visit http://www.chromalox.com.
Visit our website to download a high resolution photo of the Deep Draw cartridge heater.
About Chromalox, Inc.
For more than 90 years, customers have relied on Chromalox for the utmost in quality and innovative solutions for commercial and industrial heating applications. Chromalox manufactures the world's largest and broadest line of electric heat and control products, including heating components, immersion heaters, circulation systems, heat transfer systems, boilers, industrial and comfort air heating, heat trace cables, sensors and precision electronic controls. With multiple manufacturing, engineering, warehousing and sales locations throughout North America, Europe and Asia, Chromalox is a global supplier providing the highest level of customer support. Chromalox is headquartered in Pittsburgh, PA.
###