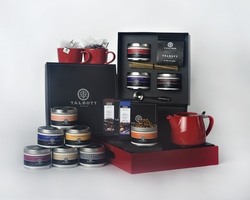 New York, NY (PRWEB) November 29, 2010
This season, have your tea and drink it too. Talbott Teas is offering a 20% discount on all purchases made on November 29, 2010 ("Cyber Monday"). To redeem the coupon, use the following the code at checkout: CM105.
Talbott Teas, an exclusive line of teas available in Bloomingdales, The Oprah Store, select merchants & salons and http://www.talbottteas.com, is a delicious gift for anyone who enjoys a hot cup of couture.
Steeped in style and packaged in sleekly sophisticated tins, this season Talbott Teas' Ultimate Gift Set explores combinations of unexpected flavors, spices and aromas from the finest quality ingredients from around the world.
The Ultimate Gift Set includes one Luxe gift box with T Filters, honey straws and Perfect Cup of Tea scoop; one tin each of Orange Crème Dreams, Luscious Lemon Meringue, Blueberry Peach Passion, Earl Grey Enchantment, Berry Delight, Field of Purple Flowers, Steamy Cinnamon Rose, Chocolate Almond Allure and Blissful Blueberry; one Chocolate Strawberry Temptation 12ct sachet box; one Blissful Blueberry 12ct sachet box; and one ceramic teapot with stainless mesh infuser, two ceramic tea cups, one serving tray (Value $150). Additional gift sets available at multiple price points ranging $10-$100.
About Talbott Teas
Talbott Teas was founded in 2003 by Shane Talbott, after establishing his reputation for creating exquisitely rich, lustrous hair at his own salon in Chicago and at the on-location salon of the Oprah Winfrey Show. One of the premier colorists in the country, Shane further developed his finely honed sense of style on a quest for luxury tea for his sophisticated customers. Utilizing only Fair Trade Certified tea growers, Talbott Teas creatively combines all natural fruit, flowers, herbs and spices from Europe, without the use of any chemicals or preservatives. Talbott Teas uses a multi-step process intended to bring out the subtle nuances and rich essences of the finest tea leaves and aromatic flavors. Talbott Teas is sold in Bloomingdales, The Four Seasons, hair salons and http://www.talbottteas.com.
Contact: Rebecca Silver / Krupp Kommunications
rsilver(at)kruppnyc(dot)com
###