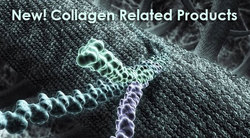 Saint Paul, MN (PRWEB) November 30, 2010
MD Bioproducts, a division of MD Biosciences and a global biotechnology company focused in inflammations and neurology research, announces the release of a panel of collagens, antibodies and collagen-related products for use in a variety of cell culture and inflammations related applications. New products include:

Collagen occurs in various places throughout the body. Type I Collagen is the most abundant collagen and is found in scar tissue, skin, tendon, artery walls and bone. Type II collagen is found predominately, but not exclusively in cartilage where its primary role is to provide cartilage with tensile strength and elasticity. Collagen IV is the main collagen that forms the cell basement membrane. Various collagens have been used in immunology research spanning applications such as coating surfaces with extracellular matrices (ECM), which promotes cell attachment and monolayer formation, to disease induction in pre-clinical efficacy studies.
MD Bioproducts has carried a wide array of collagen products and is continually expanding its portfolio. The launch of a range of Collagen Type I proteins can be used for surface coating and 3D gel formation. The addition of collagen antibodies from various species can be used in applications such western blotting, IHC and ELISA detection. To view the full range of collagen related products, visit our website.
About MD Bioproducts
MD Bioproducts is a division of MD Biosciences offering high-quality reagents for immunology and cell biology research. Our goal is to provide products that are easy-to-use, accurate and reproducible – ultimately contributing to our client's research success.
About MD Biosciences
MD Biosciences provides products and pre-clinical services for companies engaged in inflammations and neurology research. The company is headquartered in Switzerland under Morwell Diagnostics and has specialized laboratories located in Minnesota, Glasgow, and Israel. A panel of scientific experts provides companies' in-depth expertise and technologies to tackle problems and provide flexible drug discovery solutions, enabling smarter results faster.
The information in this press release should be considered accurate only as of the date of the release. MD Biosciences has no intention of updating and specifically disclaims any duty to update the information in these press releases.
###