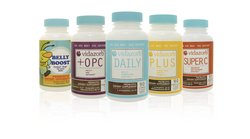 While there are many probiotic products on the market, consumers need to understand the variations in the formulations and the strains that are used
Beltsville, MD (Vocus) November 30, 2010
Vidazorb® Probiotics offers a line of supplements that are sure to please the entire family this holiday season. When it comes to health, no two people are created alike. Factors such as age and gender play a role in determining the likelihood of an individual suffering from certain ailments. For example, men are more likely to experience heartburn than women; likewise, women are much more likely to suffer from Irritable Bowel Syndrome (IBS). Children are much more prone to eczema than adults. There can be a wide variety of health concerns that need to be addressed even within one family!
Vidazorb® was created with the whole family in mind, offering a line of essential probiotic bacteria in a convenient chewable form in a variety of flavors. Since each person in the family has different needs, Vidazorb® works to provide a delicious, safe, and effective chewable option for everyone!
DAD:
Men, given some of their eating habits (half-smokes, Texas chili, cheese fries, etc.), commonly suffer from heartburn and acid reflux. A GI tract lacking good bacteria and with insufficient stomach acid can lead to heartburn. Some ingested pathogens remove healthy bacteria in the gut resulting in an 'unbalanced' GI tract, resulting in indigestion . Research has shown that probiotics can improve the effectiveness of the digestive system. A probiotic supplement like Vidazorb® balances out the natural bacteria which may in turn reduce acid reflux symptoms.
MOM:
Unfortunately for women, they account for almost 75 percent of IBS sufferers. The direct cause of IBS is still unknown but practitioners do know it stems from dysfunction within the intestines . Regularly taking Vidazorb® may dramatically help decrease symptoms of IBS, including bloating, cramping, and diarrhea, by boosting the proliferation of good bacteria in the digestive system. Balancing out the microflora in the gut ultimately lessens the severity of these types of symptoms.
KIDS:
One in ten children develops eczema, usually before they are five years old. Eczema is a condition where the skin becomes irritated and itchy, the body's reaction to certain allergens . Vidazorb® probiotics can help boost the body's immune system and case studies have shown that probiotics may be an effective option for alleviating the discomfort of eczema. In one inspiring case, a four-year-old boy who suffered from severe eczema and food allergies showed improvements in his health after just three days of taking Vidazorb®'s Belly Boost™.
Science has shown, however, that many of the most common ailments can be tied to problems in the digestive tract. Over 80 percent of the human immune system begins in the gut and imbalances within the digestive system can affect overall health. With this in mind, correcting a GI tract that is out of balance with Vidazorb® probiotics might be the key improving health issues people face on a regular basis, such as Crohn's disease, ulcerative colitis, women's urogenital health issues, lactose intolerance, constipation and allergies.
The type of probiotic strains used and the amount of viable CFUs (colony forming units) a probiotic product contains is critical to providing the most effective solution for each condition.
"While there are many probiotic products on the market, consumers need to understand the variations in the formulations and the strains that are used," says E. Frank Hodal, Jr., founder and CEO, Little Calumet Holdings, LLC. makers of Vidazorb® chewable probiotics. " We chose to use Chr. Hansen's probiotic strains in Vidazorb® for their superior quality control and clinical and scientific substantiation."
Chr. Hansen's clinically substantiated Probio-Tec® strains are key to the Vidazorb® difference. The Chr. Hansen Bifidobacterium, BB-12® and S. thermophilus, TH4™ used in Vidazorb® Belly Boost™ probiotic formulation for children have been extensively researched and clinically substantiated as safe and effective for kids. In studies on Chr. Hansen L. acidophilus, LA-5® and Bifidobacterium, BB-12®, these strains have been shown to be effective in counteracting antibiotic side effects, treating diarrhea and constipation, and reducing stool frequency in those with collagenous colitis (CC), among other benefits .
Great care is taken in selecting Vidazorb® ingredients and packaging to ensure that the Vidazorb® brand delivers the finest and most effective probiotics available. The Vidazorb® line currently includes five probiotic formulations:

Vidazorb® Daily (lemon flavor)
Daily digestive support, with L. acidophilus, LA-5®.
Vidazorb® Plus (vanilla flavor)
Digestive health support, with L. acidophilus, LA-5® and Bifidobacterium, BB-12®.
Vidazorb® +OPC (pomegranate flavor)
Daily age defense, with L. acidophilus, LA-5®, Bifidobacterium, BB-12® and Masquelier's® OPC.
Vidazorb® SuperC (orange pineapple flavor)
Enhanced antioxidant support, with L. acidophilus, LA-5®, Bifidobacterium, BB-12®, Masquelier's® OPC and Vitamin C.
Vidazorb® BellyBoost™ (wild berry flavor)
Children's formula in fun Zorbee® character shapes, for healthy digestion and nutrient absorption in children aged 4 and up, with Bifidobacterium, BB-12® and S. thermophilus, TH-4™.
With a solid commitment to science and quality, as well as a determination to bring about better health by restoring proper microflora balance in the belly, Vidazorb® is poised to become the brand of choice for health conscious families.
About Vidazorb®
Vidazorb® represents the development of superior shelf-stable, chewable probiotic formulations to provide safe, effective and essential support for core health needs. Research and development, together with a commitment to quality and efficacy, defines Vidazorb® as a brand of integrity and excellence. For more information, visit http://www.Vidazorb.com. For engaging, kid-friendly probiotic information, visit http://www.Zorbee.com. To learn more about the importance of, and science supporting, probiotics, visit http://www.YouAreWhatYouAbsorb.com.
For more information, or to arrange an interview with a company spokesperson, please contact
Leesa Raab, leesa(at)adinfinitumny(dot)com or Meghan Waters, meghan(at)adinfinitumny(dot)com.
WebMD findings. 2010 February.
Rodriquez, Diana. "Probitoics for IBS." April 200. Medically reviewed by Pat F.Bass III, MD, MPH. Health. 2010 February.
American Academy of Dermatology Findings. 2010 February.
Chr. Hansen Research on Specific Probiotic Strains Used in Vidazorb®
###