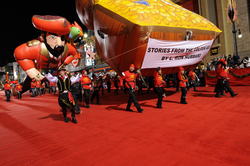 Two of the balloon entries—carried by more than 60 handlers including Kiwanis Key Club members, a local high school basketball team, members from the Jet Propulsion Laboratory and local businessmen—represented Stories from the Golden Age
Hollywood, CA (PRWEB) November 29, 2010
Over fifty thousand enthusiastic revelers lined Hollywood Blvd to see the dozens of celebrities, floats, bands and balloons in the 2010 Hollywood Christmas Parade led by parade Grand Marshall Larry King.
Two of the balloon entries—carried by more than 60 handlers including Kiwanis Key Club members, a local high school basketball team, members from the Jet Propulsion Laboratory and local businessmen—represented Stories from the Golden Age, a line of 80 books written by master storyteller L. Ron Hubbard during America's golden age of pulp fiction.
Parade host Laura McKenzie (World's Funniest Moments) introduced the two floats telling co-host Erik Estrada (CHiPs), "Floating next to the treasure is Captain Tom Bristol, the main character from L. Ron Hubbard's swashbuckling tale Under the Black Ensign. She went on to say that this story is one of Hubbard's "80 books filled with adventure, mystery, science fiction and fantasy."
Stories from the Golden Age is an 80-novel, 150-story series of trade paperback and multi-cast, unabridged audiobooks showcasing author L. Ron Hubbard's pulp fiction masterpieces from the 1930s and 1940s in multiple genres. The collection is one of the largest known releases of pulp fiction novels ever published by a single author and publisher.
The print version of each work includes the pulp fiction artwork that originally-accompanied the story in magazine publication. In addition, each title offers a full-cast, unabridged audio theatrical presentation complete with theme music and sound effects.
In addition to the print and audiobook formats, the Stories from the Golden Age can also be heard weekly at the Golden Age Theater in live theatrical presentations. The performances take place every Saturday at the 200-seat Author Services theater located at Hollywood & Sycamore, just one block west of the famed Grauman's Chinese Theatre.
The Hollywood Santa Parade was sponsored by Associated Television, Toys for Tots and the City of Los Angeles. The first Hollywood parade first took place 82 years ago, in 1928 and was called the Santa Claus Lane Parade.
For more information on Stories from the Golden Age visit http://www.goldenagestories.com.
###