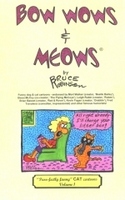 "BOW WOWS & MEOWS is good for a gaggle of giggles, guffaws and grins." -Mort Walker (creator, 'Beetle Bailey'comic strip)
(PRWEB) November 30, 2010
BOW WOWS & MEOWS, a funny dog and cat comic (endorsed by 'Beetle Bailey' cartoonist Mort Walker and other famous humorists) will soon feature cartoons of the late famed fat cat "Prince Chunk".
BOW WOWS & MEOWS creator, Bruce Robinson said "I wanted to bring attention to the fact that there are unfortunately a lot of people out there that are having a financially tough time of keeping their pets."
"The Prince Chunk Foundation will definitely be able to help these folks!" He also added, "I thought the cartoons would be a fun way to let people know about The Prince Chunk Foundation and to let them know that there IS help available."
The Prince Chunk Foundation (in memory of the late "flabby feline" Prince Chunk) will enable pet owners to keep their pets during times of financial crisis by providing temporary assistance such as free emergency veterinary care and free pet food to pet owners so they never have to choose between caring for themselves and caring for their pets.
Robinson also noted, "I had my webmaster add a link to The Prince Chunk Foundation at the bottom of each page of the BOW WOWS & MEOWS website (http://www.BowWowsAndMeows.net), so I hope that helps to drive traffic to their site and I hope that many people will donate and get involved in the great things that they are doing."
###