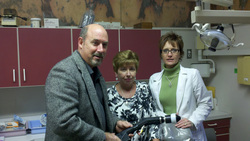 Harmful bacteria and contaminants are killed in a matter of seconds with this unique Jan-Pro system.
Alpharetta, GA (PRWEB) November 30, 2010
Jan-Pro International, Inc. (Jan-Pro), a global leader in commercial cleaning, announced today that their unique EnviroShield Spray Disinfecting System, used to kill harmful bacteria including invasive methicillin-resistant Staphylococcus aureus (MRSA) Infections, has been selected for fighting germs by one of the leading medical facilities in the US, as well the choice of a world-wide innovative manufacturer to provide a germ-free work environment.
The Elizabeth Kirby Health Center in Wilkes-Barre, PA must maintain a germ-free, clinically clean environment. The Center offers state-of-the-art laboratory services in the environmental, toxicological, and consumer product testing areas. Additionally, as an outreach to the NE Pennsylvania community, The Kirby Health Center also provides a low-cost Dental Clinic for children and many non-profit health-related agencies offer their services from the Center.
With the continuous daily use of families and children, and the heavy activity the Health Center encounters, fighting harmful bacteria is a top priority. Jan-Pro's EnviroShield Disinfection System is used by the Center as the choice to fight contaminants.
The EnviroShield Disinfectant is applied by electrostatic spray which charges each droplet (30 microns in size) with a negative charge, and when sprayed has far greater force than gravity, reaching and touching surfaces which traditionally do not get disinfected. The result is 100% disinfection coverage. Harmful bacteria and contaminants are killed in a matter of seconds with this unique Jan-Pro system.
"Being a health facility, we have many individuals pass through daily and the germ exchange is high," said Danielle Cappallini, Director of the Center. "By using Jan-Pro's EnviroShield System as a preventative measure, we hope to keep common cold and flu viruses from our environment."
Fighting harmful bacteria is not limited to just health centers. Quality Perforation, Inc. is one of only three companies in the US who produces steel perforation products to customers worldwide. Highly trained staff operate specialized equipment, and the president of the company knows that a clean, germ-free environment is paramount.
"We chose Jan-Pro's EnviroShield Disinfectant System to augment our regular cleaning," said Robert Farber, President. "We have a number of areas where our employees congregate. Locker rooms, cafeteria, meeting rooms and the like get heavy use. Germs can build if let go. The 100% disinfection coverage of EnviroShield does the job."
The Jan-Pro EnviroShield System is offered exclusively to the Kirby Health Center and to Quality Perforation by Giving Tree Commercial Cleaning Systems & Solutions, a US Veteran owned and operated JANPRO Franchise dedicated to giving back to the communities in which it operates by providing employment opportunities for those with disabilities and the disadvantaged. It is the largest Jan-Pro Franchise in Northeastern Pennsylvania.
"Our EnviroShield Disinfecting System meets all Environmental Protection Agency (EPA) requirements for Toxicity Category IV. There are no harmful ocular, inhalation or ingestion effects. Safely applied, there is no need to cover the eyes, hands or even a coffee cup in the room," said Brian DeMorrow, President of Jan-Pro Giving Tree, NE PA. "The community is better-served when medical health facilities and industrial companies when they use a complete disinfection system like this."
About Jan-Pro International, Inc.
Jan-Pro was founded in 1991 by Jacques Lapointe in Providence, Rhode Island, with a desire to offer the highest quality cleaning techniques and systems available. Currently, the Jan-Pro team is comprised of business leaders with experience around the world, as well as seasoned cleaning industry executives. Today, company structure is comprised of Master and Unit franchisees. Jan-Pro regularly receives inquiries from around the world. Entrepreneur Magazine has cited the company as "the #1 fastest growing franchise" in 2008, 2009 and 2010, an honor never before achieved in the history of the award.
To learn more, visit the Jan-Pro website at http://www.jan-pro.com
SOURCE:
Jan-Pro International, Inc.
INFORMATION: http://www.jan-pro.com
Media: mike(at)thecreativestorm(dot)com
(513) 770-0533
# # #