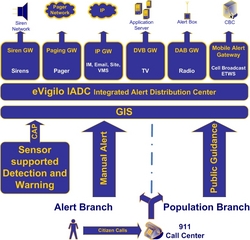 "The eVigilo system has met all the criteria of the Home Front Command, and proved without a doubt the operational feasibility of a nationwide system for real-time alerts to cellular devices over 2G and 3G networks using cell broadcast technology,"
Amsterdam, The Netherlands (PRWEB) November 30, 2010
eVigilo, provider of the industry's only fully integrated, multi-technology mass alert platform, announced that its IADC (Integrated Alert Distribution Center) platform was selected by the Israel Defense Forces' Home Front Command to serve as the core technology in the national "Personal Message" program. The "Personal Message" program is the Israeli equivalent of the US CMAS program.
The system was tested extensively in Israel's recent nationwide home front exercise, and performed exceptionally well. "The eVigilo system has met all the criteria of the Home Front Command, and proved without a doubt the operational feasibility of a nationwide system for real-time alerts to cellular devices over 2G and 3G networks using cell broadcast technology," said Lt. Col. Levi Itach, Head of the Early Warning Branch of the Israel Defense Forces' Home Front Command. eVigilo IADC enables manual alerts issued by emergency responders as well as full automatic alerts based on sensor input.
The first phase of the program, valued at US$7.5 million, will transmit location-based warnings to Israel's citizens on rocket attacks and other national security threats directly to their cellular devices. "Personal Message" is the first project of its kind to be deployed anywhere in the world.
"A personal alert via cell broadcast to devices is just the first stage. Future plans call for eVigilo's IADC to be at the core of a multi-application alert program called 'National Message,' equivalent to the IPAWS program in the US. This will include Internet, siren systems, TV (DVB), radio (DAB), telephony, fax, emails and pagers," said Guy Weiss eVigilo CEO. According to the Home Front Command the "National Message" program budget is estimated at $US 30 million.
Being Prepared for Security Threats and Natural Disasters
Systems like Israel's "Personal Message" and the next generation, "National Message," are effective solutions for a wide range of situations in addition to national security and public safety. "'National Message' will be used in the near future as an early warning system for earthquakes as well, said Itach. "This will enable citizens to be notified 5 to 10 seconds in advance of an earthquake, helping to save lives and reduce injuries."
About eVigilo
eVigilo develops the industry's only fully integrated, multi-technology mass alert platform that can reach millions of people in just seconds – to enhance safety and security and save lives in emergency situations. Supporting multi-channel alert notification and communication, the holistic, flexible Alert Integrated Alert Distribution Center (IADC) Platform is the most effective and efficient turnkey solution for mass alert systems used by governments, homeland security and rescue forces, educational institutions, energy companies, industry and public utilities. eVigilo is managed by its founders and backed by a high caliber, experienced team of security and software professionals. For more information, please visit us at: http://www.evigilo.net
###