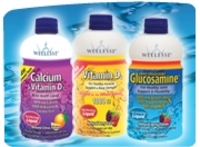 These new, more robust guidelines reflect the growing body of scientific evidence surrounding vitamin D's health benefits at levels greater than the previous DRI of 400 international units per day
Ferndale, WA (Vocus) November 30, 2010
Wellesse®, manufacturers of a liquid vitamin D3 supplement, applauds The Institutes of Medicine's (IOM) decision today to increase the Dietary Reference Intake (DRI) for vitamin D to 600 international units for children and most adults. The panel recommends 800 international units of vitamin D a day for people over 70 and increased the daily upper intake level from 2,000 international units to 4,000 international units for adults.
"These new, more robust guidelines reflect the growing body of scientific evidence surrounding vitamin D's health benefits at levels greater than the previous DRI of 400 international units per day," said Marie Spano, MS, RD, a vitamin expert and consultant for Wellesse. "Fortunately, liquid supplements like Wellesse Vitamin D3 make it easy for the whole family to meet the new DRI because they speed absorption and are easy to take."
Vitamin D insufficiency impacts millions. The Archives of Internal Medicine reported that more than 75 percent of Americans have insufficient levels of vitamin D and The American Public Health Association called Vitamin D deficiency/insufficiency "a major public health concern for both children and adults in the United States". Vitamin D has been shown to support immune health, bone health and more.*
The enhanced federal guidelines follow similar recommendations of such prestigious organizations as the American Academy of Pediatrics, which recently doubled vitamin D intake guidelines for children and breast-fed infants and the American Academy of Dermatology, which recommends that the public obtain vitamin D from nutritional sources and dietary supplements, and not from unprotected exposure to ultraviolet (UV) radiation from the sun or indoor tanning devises, as UV radiation is a known risk factor for the development of skin cancer.
Vitamin D experts such as Michael F. Holick PhD M.D. at Boston University medical center suggest that the IOM guidelines do not go far enough. In The Vitamin D Solution, Dr. Holick writes that he typically recommends 1,000 – 2,000 international units of vitamin D a day and that Wellesse Liquid Vitamin D3 "…is ideal for children and adults who don't want to take a pill or have trouble swallowing pills."
Spano says meeting these higher intake levels from diet alone may be difficult. "Foods naturally rich in vitamin D—sardines, salmon and beef liver—are not part of the average American's daily diet. One would need to consume 32 ounces of milk or other fortified dairy products every day to meet the new DRIs."
Liquid supplements can help families who find it hard to meet the new vitamin D requirements from diet alone. Two teaspoons of Wellesse liquid vitamin D3 provides 1,000 IU per day. It is available nationwide at Alice.com, Costco, Drugstore.com, Target.com, Walgreens, Walmart and other retailers.
About WELLESSE®
For more than 20 years, Wellesse (http://www.wellesse.com) has developed liquid nutritional supplements that support health and wellness. The line of liquid dietary supplements includes the nation's best-selling liquid glucosamine concentrate, Joint Movement Glucosamine®, liquid Vitamin D3 and liquid Calcium. For up-to-date information vital to your health, read the Wellesse blog http://blog.wellesse.com, follow on Twitter http://www.twitter.com/wellesse or become a fan on Facebook http://www.wellesseonfacebook.com. Products are manufactured by Botanical Laboratories, Inc. in Ferndale, Wash.
###