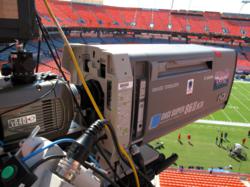 The Emmy is in recognition of our ability to provide viewers with a memorable, entertaining broadcast experience.
Wayne, NJ (Vocus/PRWEB) November 10, 2010
Vision Research, a leading manufacturer of digital high-speed imaging systems, has won an Emmy® from The National Academy of Television Arts and Sciences (NATAS) 2009-2010 Technical/Engineering Achievement Awards. The Emmy was awarded in the category of "HD Super Slow Motion Systems for Acquisition, Recording, and Playback for Broadcast Entertainment and Sports Productions" in recognition of the invaluable impact of Vision Research's high-definition, ultra-slow-motion technology on the broadcasting industry.
"We are truly honored to receive this distinguished award," said Andy Jantzen, Chief Technology Officer and Co-Founder of Vision Research. "The ultra-slow-motion technology we created has been widely adopted in sporting and other live events around the world, including the Super Bowl, World Series, Olympics, World Cup and the Commonwealth Games. Our technology also is used in television commercials and motion pictures and is a key component of the 3D imaging that can now be seen in many Hollywood films.
"The Emmy Award is in recognition of our ability to provide viewers with a memorable, entertaining broadcast experience," Jantzen added. "That success started with our customers for whom we've delivered our traditional technology into broadcast applications for many years. With their suggestions and valuable feedback, we tasked our engineering team with creating this latest generation of ultra-slow-motion technology."
The use of Vision Research's digital high-speed cameras at many of the world's most prestigious and highest-profile sporting events is a testament to the performance and reliability of the camera technology as well as the impact it is having on the live sports broadcast industry. With the capability of recording at incredible speeds of up to 2,700 frames-per-second at high-definition resolutions, Vision Research's digital high-speed cameras' ultra-slow-motion replay far exceeds the capability of traditional slow-motion cameras.
The tremendous skill of professional athletes is magnified when seen in ultra-slow motion. The technology captures stunning never-before-seen details such as the ripple of an athlete's muscles, the intensity of concentration in an athlete's eyes, or the path of a water droplet from a swimmer's gliding stroke.
Vision Research's high-speed digital imaging systems also are used by industry and science. Its products are frequently incorporated into applications that range from troubleshooting a manufacturing assembly line to monitoring the launch of a space vehicle.
Cornerstone Broadcast Camera
The Phantom® v640 digital high-speed is the cornerstone product of Vision Research's broadcast product line. The four mega-pixel camera offering 1920 x 1080 resolution at 2,700 frames-per-second (fps) provides high-definition imagery for maximum detail and is one of the most versatile, highest-performing digital high-speed cameras on the market today.
The Phantom v640 has emerged as the sports broadcast industry's de-facto camera-of-choice for ultra-high-speed playback and is available in broadcast-ready packages from a variety of service providers around the world.
Additional information and detailed specifications for the Vision Research Phantom v640 can be found here, http://www.visionresearch.com/go/v640.
Technical Achievement Emmy Awards
Launched in 1948, the Technical/Engineering Achievement Emmy Awards were designed to honor development and innovation in broadcast technology. The awards recognize companies, organizations, and individuals for technology that has had a significant impact on television engineering. In order to receive a Technical Achievement Emmy award, an individual or organization's technology must prove extremely innovative or represent an unprecedented improvement on existing engineering technologies that advance the transmission, recording, or reception of television.
Vision Research will receive its Emmy Award at the 62nd annual Technical/Engineering Achievement Emmy Awards ceremony to be held on January 6, 2011, in Las Vegas.
About the National Academy of Television Arts & Sciences
The National Academy of Television Arts & Sciences (NATAS) is a professional service organization dedicated to the advancement of the arts and sciences of television and the promotion of creative leadership for artistic, educational and technical achievements within the television industry. It recognizes excellence in television with the coveted Emmy Award for News & Documentary, Sports, Daytime Entertainment, Daytime Creative Arts & Entertainment, Public & Community Service, Technology & Engineering, and Business & Financial Reporting.
Beyond awards, NATAS has extensive educational programs including National Student Television and its Student Award for Excellence for outstanding journalistic work by high school students, as well as scholarships, publications, and major activities for both industry professionals and the viewing public. For more information, please visit http://www.emmyonline.tv.
About Vision Research
Vision Research designs and manufactures high-speed digital imaging systems used in applications including defense, automotive, engineering, science, medical research, industrial manufacturing and packaging, sports and entertainment, and digital cinematography for television and movie production.
The Wayne, N.J.-based company prides itself on the sensitivity, high-resolution and image quality produced by its systems, robust software interfaces, and reliability and versatility of its camera family – all which continue to stand as benchmarks for the high speed digital imaging industry.
Vision Research digital high-speed cameras add a new dimension to the sense of sight, allowing the user to see details of an event when it's too fast to see, and too important not to™. For additional information regarding Vision Research, please visit http://www.visionresearch.com.
Vision Research is a business unit of the Materials Analysis Division of AMETEK Inc., a leading global manufacturer of electronic instruments and electromechanical devices.
# # #