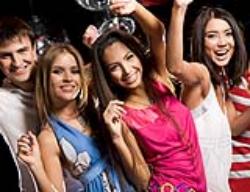 "The whole 'plus one' concept was inspired by those awkward creepy guys that you sometimes encounter and try to avoid at singles parties,"
New York City, NY (Vocus/PRWEB) November 11, 2010
Ever been to a NYC singles party only to find yourself surrounded by creepy men and/or women that don't try to talk to you but just seem to hover over you and stare? Needless to say a handful of socially awkward individuals like this could definitely be a buzz kill at any singles event.
NYC based SingleAndTheCity.Com built in a "quality control" element into their upcoming singles party NYC. Singles interested in attending can only get in if they come with a friend. "The whole 'plus one' concept was inspired by those awkward creepy guys that you sometimes encounter and try to avoid at singles parties," explains SingleAndTheCity Co-Founder, Amber Soletti. "If you'll notice, these guys always come solo, you never see them in pairs or groups and they just hover over attractive women. In an effort to deter these guys from attending our singles party we're making it mandatory that you bring at least one friend to get in."
SingleAndTheCity.com, the most ambitious dating service NYC to hit the concrete grid, set to host a Plus One Fall Singles Soiree featuring NYC's most eligible singles on Friday, November 12th, at Soho hotspot Greenhouse (greenhouseusa.com). Beginning on Friday at 6:30pm, this NYC singles party brings together singles between the ages of 25-48, via $10.00 drink specials, hors d'oeuvers, and icebreakers that act as a catalyst for conversation. Party sponsor Sweetbreath will be on-hand distributing samples to ensure singles breathe friendly throughout the night. NYC Condoms will also be available for singles that really hit it off.
WHAT: Plus One Fall Singles Soiree
DATE: Friday, November 12th 2010
START/END TIME: 6:30-10:30pm
WHERE: Greenhouse – 150 Varick Street, New York City
WHAT TO EXPECT: 250+ singles, drink specials, hors d'oeuvers, dancing, mingling and conversation catalyst ice-breakers
REGISTRATION & COST: Pre-registration at SingleAndTheCity.com
$20.00 per person. MUST register with at least one person to get in. $25.00 per person at the door if space available.
SingleAndTheCity.com is a new dating event concept created for savvy, swinging, city-dwelling singles who are tired of events geared to traditional criteria, like age range, income and personality IQ. What sets SingleAndTheCity.com apart is its ability to foster personal connections: Events match participants with other singles who share similar interests, backgrounds, quirks–even fetishes–and a passion for meeting new people and having fun. This online company produces singles parties, networking events, speed dating, wine tastings, dating advice and much more for singles of all orientations across Manhattan and the five boroughs.
SingleAndTheCity.com is a division of One Stop Singles LLC, which offers speed-dating events through its NYC based OnSpeedDating.com division. OnSpeedDating.Com delivers quality and quantity by offering its diverse NYC clientele themed speed dating nyc events like "Have Passport, Will Travel", "Wing Women", "Inked" (speed dating for tattooed singles), and "Size Matters" (for guys and gals with a hankering for height.) Between the two services, NYC singles can to attend six to eight events per month with admission prices ranging from $30-40.00.
Upcoming SingleAndTheCity.com events:
Fireman Singles Party at Saloon --December 17
New Year's Eve Singles Party at R-bar—December 31
Upcoming OnSpeedDating.com events:
Hung Speed Dating for women in search of a BIG package –November 11
Asian Persuasion Speed Dating for men that like Asian Women –November 16
INKED Speed Dating for tattooed singles –November 16
Speed Date an Ivy League Man –November 16
For More Information:
Visit SingleAndTheCity.com for information about upcoming singles events speed dating NYC events.
###