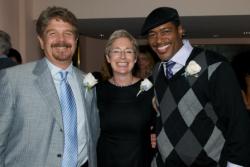 Los Angeles, CA (Vocus/PRWEB) November 16, 2010
(November 15, 2010) – As part of its groundbreaking New Voices initiative, announced today, in an extraordinary and unprecedented display of industry-wide support, HUMANITAS has reached agreements with Twentieth Century FOX Television, NBC Universal, CBS, ABC Studios, Lionsgate and HBO Entertainment to develop a total of twelve television pilots by emerging writers.
Each company has made blind commitments to buy two scripts, each of which will be written under the supervision of a member of HUMANITAS' prestigious Board of Directors and Trustees. The announcement was made today by HUMANITAS Executive Director Cathleen Young and HUMANITAS President John Wells; Twentieth Century Fox Television Chairmen Dana Walden and Gary Newman; NBC Universal Television Entertainment Chairman Jeff Gaspin and President Angela Bromstad; CBS Entertainment President Nina Tassler and CBS Television Studios President David Stapf; ABC Entertainment Group President Paul Lee; Lionsgate Television Production President Kevin Beggs and HBO Entertainment President Sue Naegle.
"We are extremely pleased with the wonderful support the industry has given the HUMANITAS New Voices initiative, which pairs gifted writers with our HUMANITAS Trustees, who are among the most acclaimed and successful TV and film writers and producers working today," said HUMANITAS President John Wells. "In an ever more challenging television marketplace, it's an exciting new way to get the kind of material HUMANITAS has always supported onto network television."
HUMANITAS Executive Director Cathleen Young added, "The goal of New Voices is to give more writers a chance to step up to the plate. We are thrilled by the warm reception each of these companies has given this initiative, which is in keeping with our fundamental mission of 'changing the world one story at a time' while we also create opportunities for the lifeblood of this industry: writers."
"We are thrilled to be partnering with HUMANITAS in the search to identify exciting new voices for television," commented Twentieth Century Fox Television Chairmen Dana Walden and Gary Newman. "This organization has a long and rich history of recognizing the industry's highest quality material, which makes them uniquely qualified to lead this important initiative."
"NBC Universal is happy to partner with HUMANITAS on its New Voices project. This is a unique and promising business model for identifying and nurturing new talent in the television industry, and a great example of a non-profit organization thinking outside the box to create more opportunities for writers," said Jeff Gaspin, Chairman, NBC Universal Television Entertainment and Angela Bromstad, President, Primetime Entertainment, NBC and Universal Media Studios.
"HUMANITAS has long supported and rewarded the best writing on television. With the New Voices initiative, they are giving promising writers an opportunity to be mentored by some of the best in the business and CBS Television Studios is honored to be part of this program," said David Stapf, President, CBS Television Studios.
"Finding new voices with fresh ideas is the hardest and most rewarding part of a television executive's job. We are delighted to be joining with HUMANITAS in this new venture which we hope will result in the launching of new careers and the development of great shows," said Nina Tassler, President, CBS Entertainment.
"HUMANITAS' New Voices will give writers who might not otherwise have access to the networks an opportunity to work under the guidance of seasoned veterans with successful track records for creating some of the most critically acclaimed, groundbreaking series on television," said Paul Lee, President, ABC Entertainment Group. "It has the potential to become an exceptional creative resource for all the networks, and we, along with our participating Board members, are proud to support it."
"Great television is impossible without great writing, so it's essential for the entertainment community to provide opportunities for new and distinctive voices to be heard," said Kevin Beggs, President, Lionsgate Television Group. "We wholeheartedly support the mission of HUMANITAS and are proud to be involved in this exciting initiative."
"HBO takes great pride in joining with HUMANITAS and other industry leaders in the New Voices initiative," said Sue Naegle, President, HBO Entertainment. "We take our hats off to the various participating Board members, many of whom we have worked with at HBO, and applaud their generous efforts to shepherd this new crop of screenwriters. We look forward to seeing the creative fruits of their labor."
The HUMANITAS Board of Directors consists of Neal Baer ("Law & Order"), Marshall Herskovitz ("The Last Samurai"), Carol Mendelsohn ("CSI"), John Wells ("ER"), John Sacret Young ("China Beach") and Ed Zwick ("thirtysomething").
The HUMANITAS Board of Trustees consists of Paris Barclay ("In Treatment"), Greg Berlanti ("Brothers & Sisters"), Cindy Chupack ("Sex & the City"), John Eisendrath ("Alias"), Kirk Ellis ("John Adams"), Brad Falchuk ("GLEE"), Tom Fontana ("Oz"), Howard Gordon ("24"), Marc Guggenheim ("No Ordinary Family"), Hart Hanson ("Bones"), Winnie Holzman ("Wicked"), David Hudgins ("Parenthood"), Jason Katims ("Parenthood"), Richard LaGravenese (The Horse Whisperer), Bill Lawrence ("Cougar Town"), Ali LeRoi ("Everybody Hates Chris"), Steve Levitan ("Modern Family"), Damon Lindelof ("LOST"), Paris Qualles ("The Tuskegee Airmen"), Shonda Rhimes ("Grey's Anatomy"), David Shore ("HOUSE"), Robin Swicord (The Curious Case of Benjamin Button), Matt Tarses ("Scrubs"), Patric Verrone ("Futurama"), Greg Walker ("The Defenders") and David Zabel ("Detroit 1-8-7").
About HUMANITAS
The HUMANITAS Prize is an annual screenwriters' award founded in 1974 to encourage, stimulate and sustain film and television writers engaged in telling stories which entertain and uplift while deeply exploring the human condition, and to give them the recognition they deserve. The HUMANITAS Prize honors stories that affirm the dignity of the human person, probe the meaning of life, and enlighten the use of human freedom. The stories reveal common humanity, so that love may come to permeate the human family and help liberate, enrich and unify society.
The HUMANITAS Prize is funded by an endowment established through the generosity of individuals, networks, studios and foundations.
Since its inception, the HUMANITAS Prize has awarded over $3 million to more than 283 deserving writers.
For more information, please visit the website at http://www.humanitasprize.org
###