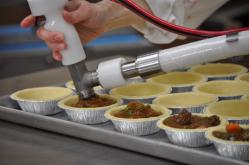 The best part of Section 179 is that companies can now take advantage and enjoy not only tax savings but increased profits through slashing both labor and ingredient costs through automation and maintaining portion control!, says Stewart MacPherson – VP o
Delta, BC (Vocus/PRWEB) November 16, 2010
Unifiller announces that Section 179 applies to their wide range of equipment offerings, and will assist customers looking to take advantage.
Section 179 and what does it means in today's economy – The small Business Jobs and Credit Act of 2010 couldn't come at a better time, as the economic situation begins to recuperate, businesses have or are planning to benefit before 2011 comes to a close.
Not only was the previous amount increased to $500,000 but the expense provision for Section 179 property set to expire on December 31, 2010 got a reprieve and has now been extended to December 31, 2011. This increase has many business owners excited, because with these new limits new business assets put in service before January 1, 2012 qualify for a deduction of up to $500,000. The assets must have a recovery period of 7 years or less. The reality of a competitive marketplace is that benchmarks are developed that put (ROI) Return on Investment from purchased equipment, top of priority when added to the capital planning and budgetary process.
For baking and food companies, equipment reliability is important because if downtime becomes a problem, a lifecycle analysis is created, then an equipment strategy session by a team of plant production personnel is conducted to determine whether to repair, rebuild or replace existing equipment. This type of evaluation is important even after the fact – as downtime decreases the rate of production and output. In this respect companies still need to appreciate the power of technology to fan growth.
One of the great advantages to Section 179 is that equipment that was once financially unfeasible can now be purchased and put into production in 2010 and 2011 to enhance the bottom line significantly; tax savings, reduction of labor and ingredient costs all by automating and maintaining portion control through an investment on high quality equipment. Definitely very welcome news to businesses everywhere especially for the baking and food industry which in recent years has been considered recession proof – mistaking the small margin of growth as a recession shield which was really capital costs to keep afloat all relative to consumers' selective purchasing habits during the recession crunch.
"The best part of Section 179 is that companies can now take advantage and enjoy not only tax savings but increased profits through slashing both labor and ingredient costs through automation and maintaining portion control!", says Stewart MacPherson – VP of Sales & Marketing for Unifiller Systems.
Unifiller has been the leader in the industry for over 20 years, providing solutions for precise portion control with an extensive range of single and multi piston depositors, transfer pumps and multiple head units. They also specialize in producing both fully and semi-automated production systems. For a list of Unifiller equipment visit http://www.unifiller.com
For the most part, the baking and food industry can actually take advantage of this great opportunity, applying these benefits to their business strategy and forecasted growth with new equipment that was once considered a luxury will soon be a common workhorse. To find out more about Section 179 visit http://tinyurl.com/36gpcw4.
###