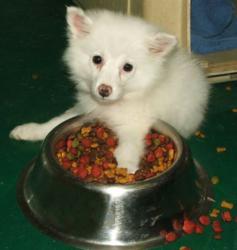 Every animal kept out of a shelter, every pet guardian who is aided in caring for their loyal companion is one small victory and we're doing everything we can to ensure many small victories
(Vocus/PRWEB) November 17, 2010
Although discussion of the Gulf oil spill's destructive effects on the environment, the economy and the people of Louisiana has slipped from the nightly news, the disaster's impact on local families and their pets continues to be devastating. Best Friends Animal Society, as part of an ongoing pet retention effort in the Gulf region, continues to respond to reports of pet relinquishment, solicit donations of pet food, and help raise funds to help families and their pets.
No one knows when life will begin to return to normalcy for those commercial fishermen, charter boat operators, workers in the tourist industry and so many others who find themselves with their livelihoods disrupted. For months, facilities like the Jefferson Parish Animal Shelter have seen a steady increase in families surrendering pets because they're no longer able to feed and care for them.
The Society has secured more than 80,000 pounds of dog food donated by Del Monte Foods to help families care for their pets. In addition, Best Friends coordinated and paid for the transportation of the truckloads of Kibbles 'n Bits brand food that arrived in June and September. The most recent large donation --2,000 bags of food weighing 20 tons, the kibble equivalent of three elephants-- was distributed by the Jefferson Parish shelter to needy pet families within a month of its arrival.
Kim Staton, consultant to the shelter, says that the ripple effect of disasters in the area continues, as does the ongoing need. In an all-too-often occurrence, teary-eyed people come to the shelter with plans to give up their skinny, hungry dogs because they don't know what else to do.
The shelter held a pet wellness clinic in early October, where most of the food was distributed, and during the clinic, more than 1,100 pets were vaccinated, 500 were microchipped and approximately 80 spay/neuter vouchers were distributed, along with educational materials on responsible pet guardianship.
"We had an unbelievable turnout for the event," Staton said. "I talked to one woman who tearfully said her dogs hadn't eaten in a day and she didn't have money to buy food. We gave her a couple of bags and told her to check back with us after that ran out. She was elated!"
Bikers Gang Up to Raise Funds for Furry Gulf Family Members
In the last few months, a small group of caring and compassionate Harley Davidson Road King motorcycle enthusiasts with names like Zug, Big Daddy, Hippie Dave, Mocc and DixiePixie, have dedicated themselves to raising money to help the "voiceless victims" of the oil catastrophe.
When they learned that local shelters were inundated with pets surrendered because their families could no longer feed them, they decided right away to find a way to help people avoid having to make this heartbreaking decision.
The biker who calls himself "Big Daddy" is a New Orleans resident himself, and was so moved by this terrible tragedy that he designed a tattoo to memorialize the event. The image, which depicts a fleur-de-lis symbol erupting oil, was adopted as the official logo for the group's New Orleans (NOLA) pet relief effort. The bikers are selling "LOUISIANA – I CARE," lapel/vest pins featuring the new symbol for $10 each, at http://www.moccsplace.com/nolapetrelief.
"Every single cent raised above the cost of the pins will be donated to Best Friends with the stipulation that the monies are to be used in Louisiana to help keep pets in their homes, with their people, where they belong," Big Daddy said. "Every animal kept out of a shelter, every pet guardian who is aided in caring for their loyal companion is one small victory and we're doing everything we can to ensure many small victories."
With the funds made available by the NOLA Pet Relief group and other donations of food or financial support, Best Friends will continue working with Jefferson Parish Animal Shelter to help families care for their pets and avoid relinquishing them. Donations to help Gulf pets may also be made directly to Best Friends at https://www.bestfriends.org/donate/FirstHomeForeverHome.cfm.
Best Friends Remains Committed to Providing Help to Gulf Pets and People in Need
Already struggling to recover from Hurricane Katrina's impact in 2005, New Orleans-area families have since been struck by the national economic downturn and then devastated by the BP oil spill.
In the months following Katrina, numerous individuals and organizations, including Best Friends, came together to help the animals left behind in the storm's wake. Best Friends' disaster response team worked closely with Jefferson Parish Animal Shelter in the aftermath of Katrina. The Society's staff and volunteers each day rescued pets in the field and then visited the shelter each evening to transport as many animals as possible to the rescue site in Tylertown, Miss.
The wonderful staff at Jefferson Parish shelter supported Best Friends' people with food and fuel, and two Best Friends staff even lived at the shelter for two weeks so they could spend more hours out rescuing animals.
Jeff Popowich, Best Friends' animal care senior manager, was part of the rescue team.
"The staff at the shelters were great people," Popowich said. "Several of them stayed at the shelters through the storms and went right back to work once the storm passed. We all worked together quite well and in the end saved a bunch of animals."
On-going support provided to Gulf families is part of Best Friend's First Home Forever Home campaign, one of many Best Friends Animal Society national campaigns to help animals. The goal of this effort is to help families who are affected by the disaster to avoid having to surrender their four-legged family members.
The campaign focuses on all aspects of helping people make and honor a lifetime commitment to their pets. Millions of companion animals die every year in crowded shelters because their families decided to let them go for some reason. Through education, intervention and action, First Home Forever Home provides guidance and resources to help people care for their pets and keep them as loved members of their families.
About Best Friends Animal Society
Best Friends Animal Society is a nonprofit, membership organization building no-kill programs and partnerships that will bring about a day when there are No More Homeless Pets. The society's leading initiatives in animal care and community programs are coordinated from its Kanab, Utah, headquarters, the country's largest no-kill sanctuary. This work is made possible by the support of a grassroots network of members and community partners across the nation.
Contact for more information:
Temma Martin
Best Friends Animal Society
801-953-8876
temmam(at)bestfriends(dot)org
Barbara Williamson
Best Friends Animal Society
435-689-0200
barbara(at)bestfriends(dot)org
###