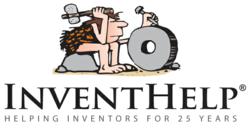 Pittsburgh, PA (PRWEB) November 19, 2010
InventHelp®, America's largest inventor service company, announces that one of its clients, an inventor from Arizona, has designed a snack or meal tray that could provide a stable, convenient place for vehicle passengers and drivers to set food and drinks. This invention is patented.
The "Travel Tray" shoulder-worn device would position a tray at chest level for easy access to snack and meal items. The unit would act as a safety device by enabling drivers to concentrate more fully on the road while enjoying food and drinks. The portable and compact design would be ideal for sporting events, picnics and for use by children.
Travel Tray would consist of a circular, adjustable tray that would be connected to a pair of C-shaped straps. The tray system could be producible from nylon, foam and plastic. The top, front portion of the tray would feature a pair of adjustable, 1-1/2-inch deep cup holders. The cup holders could be expanded to a maximum of 3 inches in diameter. A crescent-shaped, ¾ inch wide recess at the back of the tray would catch crumbs. The tray itself could be adjusted from a minimum of 4 inches to a maximum of 8 inches in diameter. A napkin holder, which would be attached by nylon fastener strips, would be located behind the tray. The front portion of the strap assembly would be fitted with a washable chest cover. To use, vehicle operators or passengers would fit the straps over their shoulders, positioning the trays in front of their chests. The users could then place drinks in the cup holders and set food or snacks on the back of the tray. The tray could unfold forward 90 degrees and fold back for easy storage. According to the inventor, possible options may include a cellular-phone pouch and utensil holder.
InventHelp® is attempting to submit the invention to companies for review. If substantial interest is expressed, the company will attempt to negotiate for a sale or royalties for the inventor. For more information, telephone Dept. 06-PHO-824 at (800) 851-6030.
# # #