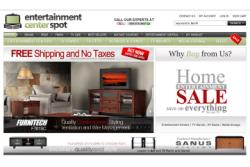 Our refined menu and shopping cart systems give our customers a unique interactive experience that is very intuitive, fun to use and protects their identity during the checkout process
Golden, CO (Vocus/PRWEB) November 25, 2010
InteriorMark, LLC, a leading operator of e-retail websites selling a wide range of home theater furnishings, is proud to unveil a brand new online shopping experience in their newest website, EntertainmentCenterSpot.com.
From the smallest speaker stand to the largest wall unit, EntertainmentCenterSpot.com showcases a wide selection of entertainment furniture including AV racks, TV stands, entertainment centers, media storage cabinets, corner TV stands and other products designed specifically to organize and display home entertainment gear. Styles range from traditional to contemporary, and many top brands are available from upscale modern designers like Sanus Systems, Modloft, and Bell'O. Entertainment Center Spot even caters to custom home entertainment with manufacturers like Dinec, who allows you to choose from hundreds of finish and hardware options to create a personalized piece of furniture.
"We have many ways for shoppers to find the perfect entertainment furniture for their living room or den. They can search by furniture type, brand, finish or TV size. They can even browse through a list of best selling products," said Kristen Linden, who is the Web Store Manager for InteriorMark. Linden went on to say, "Our refined menu and shopping cart systems give our customers a unique interactive experience that is very intuitive, fun to use and protects their identity during the checkout process."
Each item in EntertainmentCenterSpot.com has a product page devoted to highlighting important and unique characteristics. Product details, key features, dimensions, specifications and warranty information are organized into tabs for easy access. Detailed warranty information is provided as it is a very important part of any furniture buying decision. Each piece is also available with free shipping in the continental United States. Customers can even post comments about their favorite pieces in the Review tab, which is one of InteriorMark's most popular features.
Sales support is not just limited to the website. EntertainmentCenterSpot.com also features instant online messaging with one of InteriorMark's experienced Sales Professionals. They are also available directly via telephone and email. InteriorMark's Sales staff comes with over 20 years combined experience in the furniture industry. They are very knowledgeable about the products on EntertainmentCenterSpot.com, and can answer any questions. They can also assist in placing orders.
About InteriorMark, LLC – InteriorMark, LLC is the market leading retailer of home theater furniture products, entertainment furniture, massage chairs, sofas and sectional sets. The company offers a wide range of products and services designed to enhance and decorate a living room space or dedicated home theater environment. InteriorMark is a member of the National Home Furnishing Association and Western Home Furnishings Association, and is an A-rated member of the Better Business Bureau.
# # #