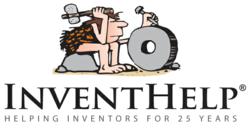 Pittsburgh, PA (PRWEB) November 24, 2010
InventHelp®, America's largest inventor service company, announces that one of its clients, an inventor from Ohio, has designed a device that surrounds pipes with fireproof caulk to meet building code requirements. This invention is patented.
The "Packs" unit could reduce the amount of labor involved in fireproofing pipes and reduces the messiness involved in using a caulking gun. The device would easily dispense fireproof caulk around a pipe to seal the area around the pipe's base without leaving any gaps. This function could enable a user to fireproof pipes as they are installed without performing additional labor or hiring additional contractors.
The Packs unit would consist of a collar containing fireproof caulking that would encircle a drain pipe or electrical wires. The collar would be formed by two metal bars with a semi-circular curve in the middle that surrounded the pipe or wires. Each bar would feature a hole at either end that would allow them to be fastened together via nuts and volts. When the bars are connected, the pipe would rest in the circular portion in the middle. The interiors of the semi-circular grooves in the collar pieces would be hollow and serve as reservoirs for fireproof caulking. To operate, a user would drill a hole for the pipe, leaving an inch of excess space for the collar attachment and caulk. Next, a user would attach the metal collar to the base of the pipe where it meets the floor. Once in place, a user depresses the PVC buttons on top of the reservoirs, which forces the caulk downward to fill in the space between the pipe and the floor. Packs is producible in other designs and variations.
InventHelp® is attempting to submit the invention to companies for review. If substantial interest is expressed, the company will attempt to negotiate for a sale or royalties for the inventor. For more information, telephone Dept. 06-CNI-402 at (800) 851-6030.
# # #