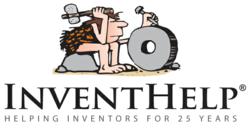 Pittsburgh, PA (PRWEB) November 26, 2010
InventHelp®, America's largest inventor service company, announces that one of its clients, an inventor from Wisconsin, has designed a travel accessory designed to keep a child entertained when on a long trip in a vehicle. This invention is patented.
"BC'S Travel Center" would make it easier to keep a young child entertained in an automobile while on-the-go. It could enhance the child's comfort when traveling in a vehicle, and would be ideal for use on long trips. The invention would provide peace of mind to parents and caregivers, and according to the inventor, easy to keep clean.
The travel accessory would include a foot rest and an activity tray, and could be produced from cloth and metal. The device would attach to the vehicle's seat in front of the child via two adjustable straps with buckles, and could also feature a headrest strap. The headrest could include both a strap and a cover. The fold-down, adjustable tray would serve as the activity center, and would hold toys, food or drink. An adjustable bottom tray would fold down to provide the child with a foot/leg rest. The bottom of BC's Travel Center could feature a wedge-shaped piece under the bottom strap that would be used to adjust the angle of the accessory with sliding brackets for distance. The wedge is designed to fold up when not in use.
InventHelp® is attempting to submit the invention to companies for review. If substantial interest is expressed, the company will attempt to negotiate for a sale or royalties for the inventor. For more information, telephone Dept. 08-MMB-1581 at (800) 851-6030.
# # #