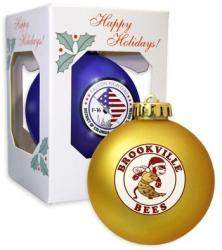 "Our college foundation wanted to send high quality, yet reasonably priced, Christmas ornaments to our donors"
Dallas, Texas (Vocus/PRWEB) November 23, 2010
As businesses and non-profit organizations look for ways to connect with their customers, prospects or donors, holiday ornaments are increasing in popularity.
A popular website, http://www.BagwellPromotions.com , offers thousands of promotional items year round. However, custom holiday ornaments make up a large portion of the products sold in November and December.
When the Northeast Junior College Foundation in Sterling, Colorado started looking for gifts for their donors , they called on Bagwell Promotions.
"Our college foundation wanted to send high quality, yet reasonably priced, Christmas ornaments to our donors", says Cindy Johnson, Executive Director. "We chose a beveled glass ornament, etched with a campus landmark. It is the perfect thank-you gift."
"I am amazed at the types of businesses that use ornaments for a promotion " noted John Bagwell, President of Bagwell Promotions.
Schools from elementary to colleges use ornaments as fund raisers or for gifts for donors. An ornament with the school logo is often a cherished gift that is placed on a Christmas tree for many years.
This year Bagwell Promotions added several churches to their list of customers. By including a photograph of their building, an illustration of a familiar stained glass window or even their logo, a unique ornament can be produced. Many churches will issue a new ornament each year while others will issue a collectors ornament on an anniversary or other special occasion.
Some business will give ornaments out to their employees or customers at an annual Christmas or holiday party. "We're had lots of customers purchase these for five or six years in a row," says Bagwell. "Employees look forward to the yearly tradition."
Through the years Bagwell Promotions has added more ornaments to the selection of styles. Now you can have your message, name or logo imprinted on traditional glass or plastic balls, beveled glass ornaments or a variety of metal ornaments including pewter or brass.
There are patriotic designs along with special shaped items.
And, of course, ornaments are used as wedding favors, for couples who get married during the holidays.
Additional information is available at http://www.bagwellpromotions.com/christmas or by calling toll free 1-866-281-8830.
About Bagwell Promotions:
Bagwell Promotions offers over 500,000 imprinted promotional products from 4,100 suppliers such as coffee mugs, pens, flashlights, magnets, ID bracelets, key chains and an assortment of apparel.
###