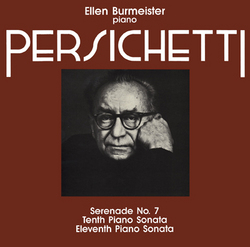 Ellen Burmeister… exhibits a rich understanding of the composer's mode of expression… The recorded sound is superb.
Boulder, CO (PRWEB) November 23, 2010
Starkland's new CD of piano works by Vincent Persichetti offers the only available recordings personally approved by the composer of his substantial Tenth and Eleventh Piano Sonatas. Performed by Persichetti specialist Ellen Burmeister, this Starkland reissue of the original album also presents the only current recording of the composer's simple but charming Serenade No. 7.
The CD is available at Amazon, CD Baby, iTunes, and many other sources.
Reviews of the original 1985 release praised the music, performance, and sound:
"Ellen Burmeister… exhibits a rich understanding of the composer's mode of expression… The recorded sound is superb."
– American Music
"A significant record… The Tenth Sonata is to my mind one of the finest contemporary sonatas. Burmeister… responds to the work's complexities flexibly and ardently in a performance that must be taken as nearly definitive."
"The Eleventh Sonata is… indeed hard, granitic music… and Burmeister has the sheer guts it requires technically and emotionally."
"A welcome addition to the recorded catalogue of an important composer."
– Audience
"Ellen Burmeister… plays with a warmth and delicacy… The superb recorded sound… offers a flattering showcase."
– Fanfare
Persichetti was an ardent fan of Burmeister. "You are such a wonderful pianist," he wrote, later adding, "I am pleased not only for her talents but also by her sound musicianship and dedication."
Upon hearing the final master before the appearance of the original album, Persichetti sent an enthusiastic note of approval, noting that Burmeister "has done a fine job."
The new CD's booklet reissues the full LP notes on the music from both Persichetti and Burmeister.
Persichetti was one of the major figures in American music of the 20th century, both as a teacher and a composer. A child prodigy, he first performed his own compositions at age 14. By the age of 20, Persichetti was simultaneously head of the theory and composition department at Combs College of Music, a conducting major with Fritz Reiner at the Curtis Institute, and a student of piano and composition at the Philadelphia Conservatory. After earning his doctorate at the Philadelphia Conservatory (where, as a student, he headed the theory and composition department), William Schuman offered him a professorship at Juilliard. Over nearly four decades there, his students included included Philip Glass, Thelonious Monk, Peter Schickele (P.D.Q. Bach), and Einojuhani Rautavaara.
Persichetti was an accomplished pianist, and his piano music forms a substantial part of his creative output. In addition, his wife, Dorothea, was an excellent pianist, and Persichetti composed The Eleventh Piano Sonata for her. Persichetti received three Guggenheim Fellowships, the first Kennedy Center Friedheim Award, Brandeis University Creative Arts Award, Juilliard Publication Award, and the Symphony League Award. Among some 100 commissions were those from the Philadelphia Orchestra, the New York Philharmonic, the St. Louis and Louisville Symphony Orchestras, Martha Graham Company, and the American Guild of Organists.
A member of the piano faculty at the University of Wisconsin, Madison, Burmeister specialized in the music of Vincent Persichetti, Roger Sessions, and Alan Hovhaness. She performed and/or gave presentations on much of Persichetti's piano music.
For this reissue, the original 25-year-old analog tapes were transferred by engineer David Glasser, at the Restoration Center at Airshow Mastering, to a high-resolution (176.4 kHz, 24 bit) digital format. Tom Steenland then polished these hi-res versions to create the new master.
About Starkland:
The Starkland label releases compelling, engaging recordings of new, experimental, and alternative classical music.
Starkland's previous recordings have received over 180 favorable reviews, including those in The New York Times, Stereophile, The New Yorker, Los Angeles Times, Billboard, Washington Post, Sound & Vision, and New York Magazine. The label's releases have been featured on such national radio programs as NPR's All Things Considered and Weekend Edition.
Starkland's catalog includes Charles Amirkhanian, Phillip Bimstein, Jay Cloidt, Tod Dockstader, Paul Dolden, Paul Dresher, William Duckworth, Robert Een, Fred Frith, Ellen Fullman, Lars Hollmer, Aaron Jay Kernis, Jerome Kitzke, Roger Kleier, Phil Kline Guy Klucevsek, Lukas Ligeti, Ingram Marshall, Merzbow, Meredith Monk, Bruce Odland, Pauline Oliveros, Maggi Payne, Somei Satoh, Carl Stone, Lois V Vierk, Pamela Z, and John Zorn. The Kronos Quartet, Ethel Quartet, Turtle Island String Quartet, Paul Dresher Ensemble, Modern Mandolin Quartet, and Todd Reynolds are some of the musicians on Starkland's recordings.
Visit Starkland for further information.
# # #