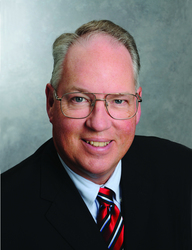 Known for his master of simple concepts that are used to help clients understand
Leawood, KS (PRWEB) December 20, 2010
Chip Anderson of Creative Marketing Corporation has been selected to join the Board of Directors for The National Association for Fixed Annuities (NAFA). Anderson's three-year term officially began at NAFA's annual membership meeting on Oct. 28 in Houston, TX.
Chip Anderson is the Senior Vice President of Tailor Made Services for Creative Marketing Corporation. For over 30 years, his focus has been to train thousands of agents and employees on life insurance and fixed annuity products. Anderson is known for his "master of simple" concepts that are used to help clients and prospects understand the need for life insurance and annuities in their financial portfolio. Throughout the years he has served as the President of KC Life Underwriter, the Board of Directors for MALL (Missouri Association of Life Leaders), NAFA Education Committee Co-Chair, and several other leadership positions within the Kansas City area.
NAFA, the National Association for Fixed Annuities, is a national trade association exclusively dedicated to promoting the awareness and understanding of fixed annuities. NAFA's sole purpose is advocating for the fixed annuity product and educating regulators, legislators, consumers, members of the media, and distributors about fixed annuities and the benefits to retirees and those planning to retire. They were founded in 1998 and are located in Milwaukee, Wisconsin. To learn more about NAFA, visit them at http://www.nafa.com
Creative Marketing would like to congratulate Chip Anderson on his selection to NAFA's Board of Directors. His knowledge and industry experience will be a wonderful addition to the NAFA committee.
ABOUT CREATIVE MARKETING
Creative Marketing, a leading national marketing organization for annuity and life insurance, has been assisting insurance and financial professionals with building a successful practice since 1984. Providing affiliated agents with hundreds of product options from a variety of carriers, the company delivers superior agent education, advanced marketing training, unprecedented back-office support, and unparalleled industry expertise from a team of talented and knowledgeable employees. Creative Marketing sets an industry standard for its commitment to excellence, ethics in business, its high integrity, and agent-client satisfaction. Centrally located in Leawood, Kansas, Creative Marketing is making a difference in the lives of its nationwide affiliated agents and the clients they serve. To learn more about Creative Marketing visit http://www.CreativeMarketing.net or call 1-800-992-2642.
17242 3221410 │11435 - 2010/11/18
###