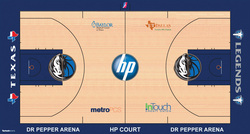 Tarkett Sports, being as innovative as they are, were the perfect match for us and this concept
Montreal, QC (PRWEB) December 1, 2010
Tarkett Sports, a company known for its quality and innovation in sports surfacing, is proud to introduce an original hardwood court design to the North American sports market. For the first time in North American basketball history, a professional team will feature the logo of a corporate sponsor for its center circle area and use team-related logos in both of the adjacent jump ball zones. This unique display of corporate branding marks a substantial design first for both the Texas Legends and Tarkett Sports, two organizations that have developed a reputation for their forward thinking approach. Earlier this year, the Texas Legends introduced Nancy Lieberman as the first women's head coach of a professional basketball team, while Tarkett Sports added to their long list of firsts with the launch of 4 colored maple patterns for Omnisports (a synthetic multipurpose sports surface), and the launch EcoPure, an eco-friendly linoleum surface designed specifically for sports.
"The large painted HP logo that makes up the center court circle was a way for us to provide one of our sponsors with a level of exposure that has never been seen or offered before," said Drew Mitchel, VP of Corporate Sponsorships for the Texas Legends. "Tarkett Sports, being as innovative as they are, were the perfect match for us and this concept. They were very hands-on at every stage and made sure that all of our needs were being met."
In addition to the center court logo, Texas and Legends branding are on display along the baselines, while two large Dallas Mavericks logos have been painted in each jump ball circle as a tribute to the NBA team that they represent. Donnie Nelson, Co-owner of the Texas Legends and GM of the Dallas Mavericks commented on his thoughts regarding the unique court design. "We wanted to build a bridge between this franchise and the Dallas Mavericks organization. Obviously the center court logo is going to make a lot of people rethink their sponsorship strategies, but for us it was also important to transfer the class and professionalism that the Mavericks represent to the Legends players here who have a shot of getting called up. With this court we have achieved our goal and we did it on a surface that the players enjoy playing on. We trusted Tarkett Sports with our special project and they delivered. We couldn't be happier and more excited."
The state-of-the-art Tarkett Sports court features more than just a novel paint job. The ClutchCourt Sportable flooring system has been designed to accommodate player safety and performance thanks to the unique panel construction and locking mechanisms which come together to create a more consistent and secure basketball experience. The dimensions and weight of each panel also ensure that the entire surface can be installed and removed as needed in a quick and efficient manner without compromising the integrity of the panels.
"When the Legends approached us with the need to create a unique court that catered to high performance basketball we were extremely excited about the opportunity of being a part of basketball and Texas history," said Stephane Leudet, VP of Tarkett Sports' Indoor Flooring Division. "Our company has been enhancing the experience of sports for many years and this was another chance for us to do something that hasn't been done before. We have developed a great relationship with the Texas Legends and we feel fortunate to be a part of it all. We wish them the best of luck in their inaugural season."
The Texas Legends will serve as the NBA Development League feeder team for the Dallas Mavericks and will be coached by Hall of Famer Nancy Lieberman. The NBA Development League, founded in 2001, is the NBA's official minor league and features 17 teams with direct affiliations to NBA teams. Dozens of former NBA Development League players were on 2009-2010 NBA end-of-season rosters, and the league continues to develop coaches, referees, and front office staff for the NBA and its teams. The NBA Development League also advances the game of basketball as the research and development arm of the NBA.
All Tarkett Sports surfaces are developed, produced and installed with a concentration on sustainability and a commitment to protecting the environment, providing additional LEED contribution opportunities for customers. The company calls this focus on sustainability and the environment 'Environmental Intelligence' and all company personnel strive to exemplify this philosophy in all aspects of the business.
For more information please contact:
Sean Adelsohn
Marketing Manager
Tarkett Sports Indoor Division
800-724-2969
Sean.Adelsohn@tarkettsports.com
http://www.tarkettsportsindoor.com
###