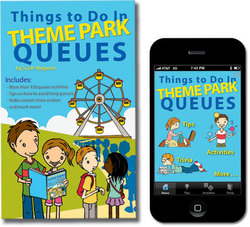 double the enjoyment of your theme park visit by making the queues fun too.
(PRWEB) December 1, 2010
There's no doubt that queuing is the tedious part of a theme park visit. However there are now some new products which specifically target the boredom of those long zigzagging lines.
Things to Do In Theme Park Queues comes as a book or iPhone app and contains more than 120 activities that can be played in the crowded queuing conditions of any busy theme park.
The award winning author, Scott Wegener, lives in Melbourne, Australia, which is a long way from any theme park with a long queue, but suggests that it may be the reason these products came to be.
"Writing these activities helped me feed the cravings I have between visits to large theme parks, like Disneyland," he says. "I love thinking about theme parks and this gave me an excuse to constantly picture myself in the queues of my favourite park attractions. I'd play out the ideas that came to mind of how I'd entertain myself and the friends I'd imaginarily taken to the park with me."
Being an only child may have helped develop Scott's creativeness for generating entertainment.
"I can't recall the last time I was bored," he muses.
" I've never personally had any difficulty in entertaining myself in any situation, alone or with friends. Hopefully these products will help those who have to visit theme parks at peak times to endure, if not enjoy, the queuing experience. They'll have this large collection of ideas of what someone who doesn't get bored would do in their situation."
As well as the categorised activities, the book and iPhone app also contain many tips for a theme park visit, such as how to avoid queues, packing checklist, and how to conquer a fear of roller coasters. There's also a large roller coaster trivia section, which includes things like attendance figures, historic milestones, lists of record-holding coasters and enough definitions of coaster inversions to send anyone loopy.
Scott suggests that if half the day at an amusement park is spent in queues, you can double the enjoyment of your theme park visit by making the queues fun too.
"I guess my ultimate aim could be to make the queuing more fun than the attraction," he says.
"Can you imagine having people sitting on the attraction waiting eagerly to join the next queue? In respect for the large amount of money spent on attractions, I've made sure the activities are just a little less exciting than the attractions being queued for."
For more information about these products, visit http://www.ThemeParkQueues.com
###