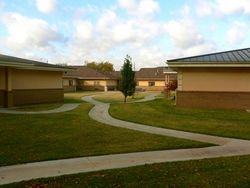 Oklahoma's public mental health system provides services to only 22.5 percent of adults who live with serious mental illnesses in the state- NAMI
Tulsa, OK (PRWEB) December 2, 2010
The need for psychiatric services and traumatic brain injury rehab in Oklahoma is great. According to statistics compiled by the National Alliance on Mental Illness (NAMI), of Oklahoma's approximately 3.6 million residents, close to 147,000 adults live with serious mental illness. Another 161,000 Oklahomans over the age of 18 need treatment for alcohol and other addictions (Oklahoma Department of Mental Health and Substance Abuse Services- ODMHSAS). Lastly, statistics from the Oklahoma State Department of Health indicate that from 2004 to 2007 a total of 17,890 traumatic brain injuries occurred among Oklahoma residents; of these injuries, only 22% were fatal, and the remaining 78% required hospitalization and rehabilitation.
Oklahoma's need for hospitals providing specialty care is certainly immense; Brookhaven Hospital, a comprehensive health center for the treatment of behavioral health and neurologic disorders, has expanded to meet these needs. The facility, located in the scenic outskirts of east Tulsa, has added 24 new inpatient beds. The expansion has allowed for a total of 28 beds for individuals with traumatic brain injury and 16 additional beds for patients with behavioral health needs. All told, the hospital now houses 64 beds for the treatment of behavioral health issues, eating disorders, substance abuse, dual diagnosis and traumatic brain injury.
Mike Brose, MSW, the Executive Director of the Mental Health Association in Tulsa, shared that the expansion could not have come at a more needed time. "The additional beds provided by Brookhaven are essential to this community. When there is crisis, and hospitalization is required, it is imperative that there be space available. It is my belief that more mental health beds are needed in Tulsa to prevent our citizens from having to leave the community to obtain treatment," Brose explained. Ellen Harris, President of the Oklahoma chapter of the National Alliance on Mental Illness, shared in Brose's sentiment; "With the recent closing of psychiatric facilities and related program downsizings a great loss has been felt in a community that is already psychiatrically underserved. At times, we have experienced our SMI (severe mental illness) population needing hospitalization and being turned away when beds were not available. More mental health beds are needed in Tulsa," she said.
The new wing of the hospital is an 11,000 square foot expansion. The new nurse's station serves as the hub for the remodeled patient care unit, which allowed for expansion of Brookhaven's behavioral health programs as well. Beyond the addition of 24 new patient beds, the new wing adds recreational space as well as treatment and medical offices. In addition, the adjacent building, known as the Brookhaven Annex, now provides over 7,000 feet of newly remodeled space for recreation and independent living skills to be utilized by patients diagnosed with TBI.
Brookhaven Hospital offers programs for behavioral health, chemical dependency, eating disorders, brain injuries and other neurological disorders. Brookhaven is also home to RENEWAL, a Christian treatment and recovery program. Brookhaven's newly constructed and remodeled patient care and treatment areas are open as of this month and are already being utilized for patient treatment. For additional information about inpatient, partial hospitalization and outpatient services at Brookaven, contact 1-888-298-HOPE(4673) or email wecanhelp@brookhavenhospital.com.
Supplemental information:
According to the Brain Injury Association of Oklahoma, brain injuries are the #1 killer of persons under the age of 44. They kill more Americans under the age of 34 than all diseases combined.
According to NAMI, in 2006, 537 Oklahomans died by suicide and another 5,800 Oklahomans with mental illnesses were incarcerated. ODMHSAS also states that, in Oklahoma, drug and alcohol addiction contributes to 85 percent of all homicides, 80 percent of all prison incarcerations, 75 percent of all divorces, 65 percent of all child abuse cases, 55 percent of all domestic assaults, 50 percent of all traffic fatalities and 35 percent of all rapes.
References:
Brain Injury Association of Oklahoma
Oklahoma State Department of Health
###