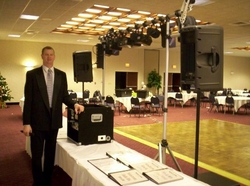 There's a lot more to being a professional wedding disc jockey than one might think. It's not everyday that people "shop" for a DJ, so many unsuspecting brides end up selecting the lowest priced DJ only to be very disappointed in their DJs abilities.
Indianapolis, IN (PRWEB) December 2, 2010
To compete with the non-professionals, Brian Kearnaghan, owner of a wedding DJ service based in Central indiana , has announced that his company will begin offering an unconditional money-back guarantee for all upcoming 2011 weddings. Kearnaghan says this assures their bride and groom clients won't pay if they aren't happy with the DJ's overall performance.
There's a lot more to being a professional wedding disc jockey than one might think. It's not everyday that people "shop" for a DJ, so many unsuspecting brides (and grooms) end up selecting the lowest priced DJ. Kearnaghan admits that when he first started in the business, he wasn't that good (or entertaining), but his super-low prices got him the business he needed to gain experience.
We've found from reviewing nationally conducted post-wedding surveys that a high percentage of the brides and grooms often wish they would have spent more time in selecting their disc jockey.  They assume that all wedding DJs are truly professional; therefore the lowest price is most likely their best deal. Today, more than ever, their assumption couldn't be further from the truth.
Low priced DJs these days can get started with a low quality, entry-level DJ system for less than $2,000. They also have access to lots of free illegally downloaded music. However, the music they get often contains unedited songs that blurt out four letter words that grandma would prefer not to hear at their grandson's or granddaughter's wedding. To make matters worse, these budget sound systems don't sound very good in large venues.
Regardless of the DJ system quality, the main issues unhappy brides typically have once it's over are:
1) The DJ's lack of knowledge in regards to popular wedding dj music
2) The DJ's lack of a detailed wedding reception DJ itinerary to help them plan their event
3) The DJ's unpolished public speaking abilities
Because of the influx in beginner DJs, The Music Factory wants to assure with its guarantee, that their wedding customers will get what they expect (i.e. a professional Indiana wedding DJ with a great sounding system and light show).
According to Kearnaghan, there aren't many, if any, Lafayette or Indianapolis DJ companies, that offer an unconditional money back guarantee to their wedding clients. This unprecedented feature offered by The Music Factory gives brides and grooms peace-of-mind assurance that they are hiring a company that strives to exceed their expectations AND that their families and friends will have a fun and memorable event.
About the Company: The Music Factory has been in business since 1997 and serves the Lafayette and Indianapolis, Indiana areas. Company owner, Brian Kearnaghan, has been a DJ since 1982 when he was elected Theta Chi house DJ while attending Indiana University. Brian has also worked the nightclub beat as a DJ at the Mirage Nightclub in Lafayette (1999), and Dock's Inn (2000) in Monticello, Indiana. Brian and his business partner, Jeremy Kaye, are also highly experienced fraternity, sorority, and high school prom DJs.
For more information please visit http://www.DJindiana.com. or call 317-702-7083 (Indy) 765-586-1368 (Lafayette).
###