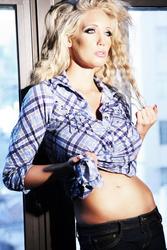 "2011 is my year...I'm not stopping until I'm a worldwide name."
Los Angeles, CA (PRWEB) December 2, 2010
Beer Magazine" features small town girl turned "Jennalicious" cover girl Jenna Bentley as one of the cover models for the December 2010 issue, available now at newsstands as well as your local Barnes and Noble and Borders bookstores (see also http://www.thebeermag.com). She's also a featured model in the January 2011 issue of "GQ" (UK edition) and makes on-screen appearance in the movie "Just Go With It" starring Adam Sandler, Jennifer Aniston, and Nicole Kidman.
Bentley's alter ego "Jennalicious" describes her transformation from 5 feet 11 inches of sweet mid-western innocence into a voluptuous, photogenic blond bombshell with striking blue-green eyes who now resides in Los Angeles. Currently enrolled at Montana University, this "bobcat" was featured in the "Playboy: College Girls" special edition. She's become popular with Playboy in print, body-painted at Mansion parties, and even catching the eye of Hugh Heffner who asked Bentley to be his girlfriend. Bentley turned down his offer as well as the chance to work exclusively with Playboy as a Playmate but continues to work with them for events and in print.
The youthful exuberance of this 21-year-old along with her down-to-earth meets powerful sensuality has kept Bentley's career continually expanding. FHM, Maxim UK, and Zoo Magazine (UK and Australia editions) are just a few additional publications where she's showed off her modeling prowess. Over the Thanksgiving holiday, Bentley stopped by "The Big J Show" on Hot 101.9 in her hometown of Billings, Montana and told listeners, "2011 is my year...I'm not stopping until I'm a worldwide name." Listen to the entire interview at http://www.youtube.com/watch?v=KAbMbQY1eGg&feature=player_embedded.
For press inquiries regarding Jenna Bentley contact:
Darrick Collins
What Ever It Takes!!! Ent. Marketing/PR
W 310.673.9912
C 310.946.1398
collinsdarrick(at)yahoo(dot)com
Related Links:
http://www.therealjennabentley.com
http://www.facebook.com/therealjennabentley
http://www.twitter.com/jennabentley07
http://www.youtube.com/jennabentley07
ABOUT JENNA BENTLEY
Jenna Bentley is an internationally published model from the small town of Billings Montana. She got her start early on in life doing beauty pageants, dance classes, and being in numerous commercials. Jenna has been on the cover and graced the pages of over 2 dozen magazines all at the young age of 21. Jenna is a triple threat. Not only can she look pretty for a camera, but she is an actress and can dance. She does a wide range of dance including hip-hop, Irish Celtic, ballet, and tap. Jenna has been in dance classes for over 19 consecutive years and is currently taking acting classes. Jenna is currently represented by Allegiant Entertainment, Inc. For information about Jenna Bentley visit http://www.therealjennabentley.com/.
ABOUT ALLEGIANT ENTERTAINMENT, INC.
Jenna Bentley is represented by Allegiant Entertainment, Inc. Allegiant Entertainment is owned by LA-based talent manager and agent, Ryan Miller. Allegiant Entertainment specializes in management, talent representation and booking, and consulting. To contact Ryan Miller regarding Jenna Bentley and other Allegiant Entertainment talent, email Ryan Miller at ryan(at)allegiantentertainment(dot)com.
###