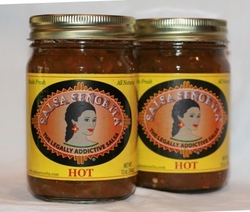 "It isn't all about the tomatoes, it's about all the fresh ingredients- the tomatoes, onions, jalapenos and spices blended together. That's why we call it the 'legally addictive'salsa"
Birmingham, AL (PRWEB) December 2, 2010
Some like it hot for the holidays, and the creators of the Salsa Senorita line of all-natural salsas are adding a spicy twist to holiday entertaining with authentic southwestern recipes that are easy to prepare and sure to please. Even turkey leftovers get a hot new flavor in cheesy layered enchiladas- an impressive yet simple dish that's remarkably healthy and low in calories and fat. A little salsa adds zest and excitement to all kinds of everyday dishes from meatloaf to pot roast to salads. There's a great gallery of recipes that call for salsa on http://www.salsasenorita.com.
Salsa Senorita co-founder Lori Sours is a native of New Mexico where she cultivated her love of all flavors southwestern. She and her brother Mark created Salsa Senorita from favorite family recipes when they realized there was not a truly authentic, all-natural southwestern salsa on the market. Lori shares her passion for authentic southwestern cuisine on her company's website, http://www.salsasenorita.com where she also shares some of her salsa- making sensibilities. "It isn't all about the tomatoes, it's about all the fresh ingredients- the tomatoes, onions, jalapenos and spices blended together. That's why we call it the 'legally addictive' salsa," says Lori who along with her brother founded El Nuevo Foods and created the Salsa Senorita line of all-natural, preservative-free salsas. Here are a couple of their favorite holiday recipes:
Salsa Senorita Turkey Enchiladas
2 cans fat free cream of chicken soup
1 cup fat free sour cream
2 cups cooked chopped turkey (may substitute chicken)
1 (12 ounce) jar Salsa Senorita brand salsa (hot, medium or roasted garlic)
¼ cup chicken stock
18 corn tortillas
2 cups grated Mexican cheese
Combine first 5 ingredients in sauce pan. Cook over low to medium heat for approximately 30 minutes, stirring occasionally. Do not boil. Place 6 tortillas on the bottom of 3 quart casserole dish; cover with 1/3 of the sauce and 1/3 of the cheese. Repeat layering twice, finishing with cheese on top. Bake at 350 degrees for 45 to 50 minutes or until top is golden brown. Let stand 10 minutes before serving. Serves 6.
Serve with the Classic 5-minute Guacamole Salad found on http://www.salsasenorita.com.
Salsa Senorita brand salsas are all-natural, uncompromisingly fresh and free of preservatives. The 'legally addictive salsa' is available in Hot, Medium and Roasted Garlic flavors. Salsa Senorita brand salsas are produced by El Nuevo Foods and are available at fine grocery stores and specialty food markets in Southern California and New Mexico as well as Alabama markets including Whole Foods, V.Richards, Western Supermarket, Piggly Wiggly and many others. Salsa Senorita salsa, recipes and entertaining tips are available on line at http://www.salsasenorita.com.
# # #