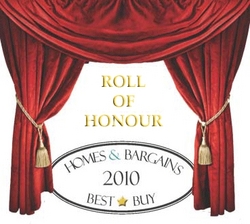 We have always relied on three principles as a business; better products, better service and better prices.
(PRWeb UK) December 4, 2010
Better Bathrooms.com, the online bathroom retailer, has today announced that it has scooped an award for being one of the best value retailers of 2010. The award, handed out by the style website, Homes & Bargains, was voted for by a panel that was looking for retailers who were providing quality homeware, value for money and excellent customer service, 3 things Better Bathrooms prides itself on.
Being inducted into the Home & Bargains Roll of Honour underlines the great success and progress that Better Bathrooms has made over the last 12 months and comes as an early Christmas present for the company and its employees. The company has employed over 40 new staff this year alone and this award confirms their status as one of the fastest growing online companies in the UK.
It is surely down to the continually low prices Better Bathrooms offers on its bathroom suites, through both its stores and its website, http://www.betterbathrooms.com, which has seen the retailer pick up such a prestigious award.
Managing Director, Colin Stevens said on receiving the award "We are really proud to have been inducted into the Home & Bargains Roll of Honour for being a company that offers great value. We have always relied on three principles as a business; better products, better service and better prices. To be rewarded because of great value confirms to us that what we are offering to our customers is what they want; high quality products but at lower prices. The award also reflects how hard we have been working as a company to improve our levels of customer service throughout 2010, as the award wasn't just about low prices, but also excellent service. We are still a growing company, but to be recognised when we have so much more to offer, is very exciting for us as we know we can only get better in the years to come!"
# # #